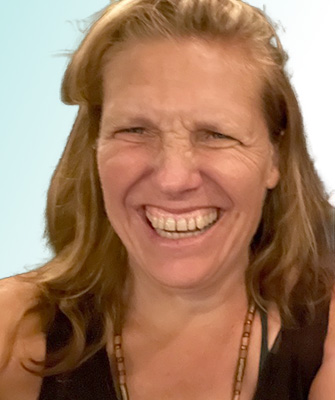 Jenny Mikesell
User Experience Professional
Shared Housing
Application For People
Experiencing Homelessness
Photo credit: Ilse Orsel
In 2020, 82,955 people fell into homelessness in Los Angeles.
The social services system
placed 22,769 into housing.
Team
Our team included a Data Analyst and a Developer (and me).

My Responsibilities
User Experience Researcher and Project Manager

Challenges
Creating solutions for the challenging road blocks in the process of finding people compatible housemates. Demystifying the concept of shared housing. Finding funding. Finding landlords willing to give our users their own lease.
Solution
Create a match.com matching tool for finding a compatible housemate.
Methodology
In depth research with clients and social workers.

Context research.

Prototype testing with clients.

Logistical solutions with Landlords.

Cooperating with other social service agencies.

Follow-up system with clients after they're housed.
Success Metrics
This application was the first successful application in the country.

I did several training programs for agencies in other parts of the country.

The application was developed to use as a template to adopt to other cities.

During my tenure, I brought this project from Excel sheets to a complete web application with the ability to expand.

62 people were successfully housed using the application.

Shared Housing became a viable option for clients vs. an option that was dismissed immediately.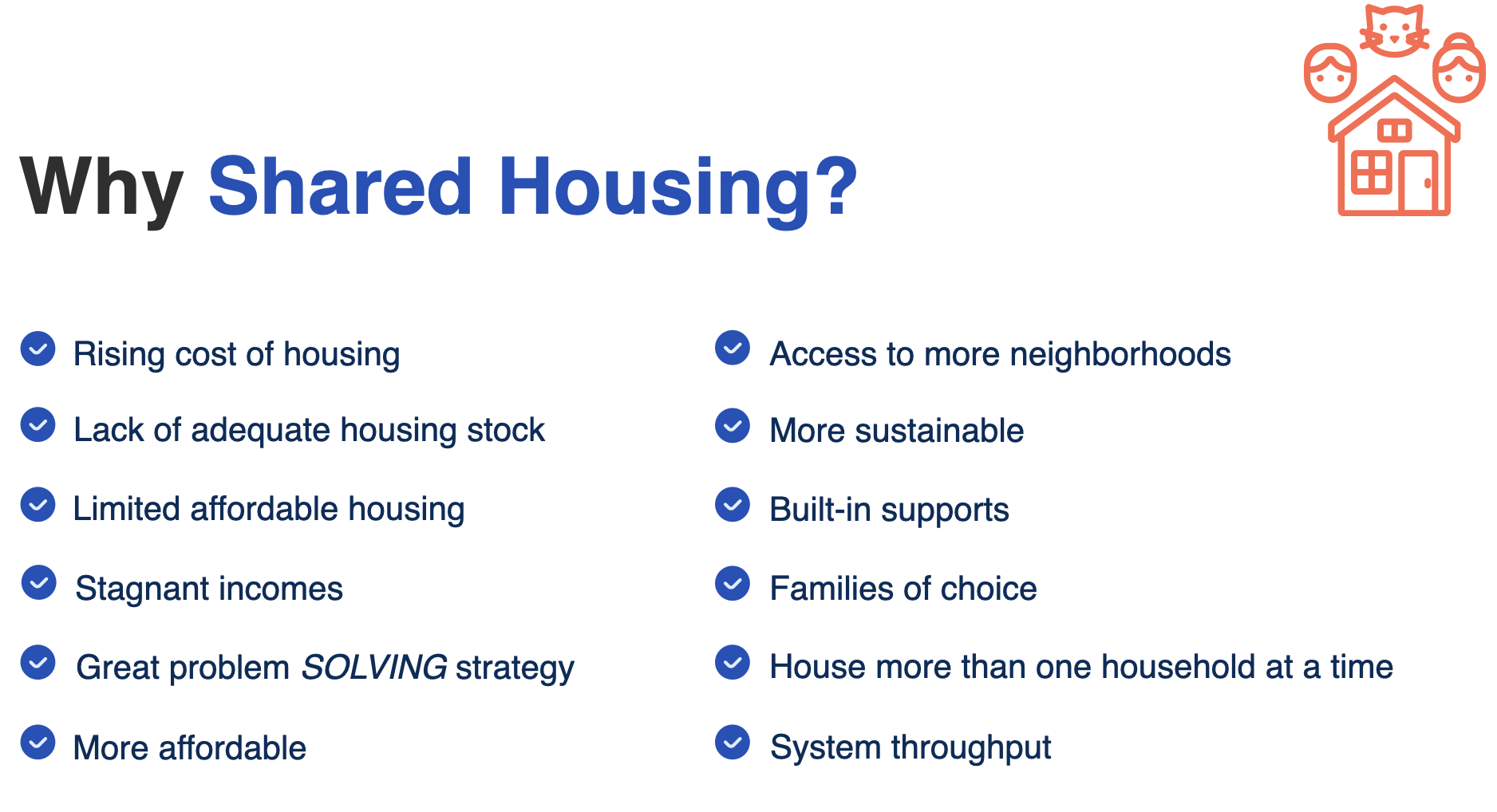 How does LA Family Housing create a housemate matching tool for people who experience homelessness?
How might we provide safe and comfortable housing options for a large percentage of the homeless population?

How might we enhance the process of finding compatible housemates?

How might we persuade property owners to offer individual leases for housemates?

How might we transform the concept of "shared housing" into a positive and fulfilling experience?

How might we identify available 2-4 bedroom apartments during an eviction moratorium?

How might we leverage software to facilitate successful housemate matches?

How might we explore and communicate the benefits of shared housing for this population?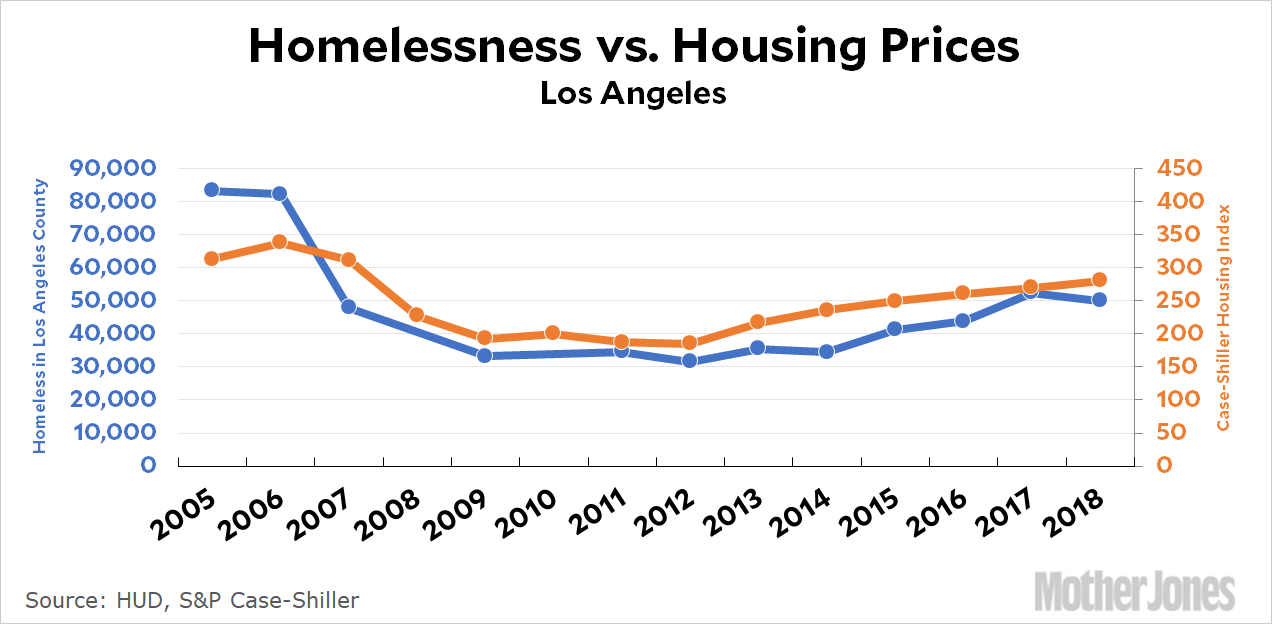 Metrics - Affordable rent and wages.
Rents are out of reach for many renters. In CA, to afford a 2 bedroom apartment, a wage-earner needs to make $39/hour.
Data - Housing people.
"Most of the people experiencing homelessness that the homeless system helps house stay housed. Eighty-eight percent of the people placed in permanent housing through our system in 2018 have not returned to homelessness. In 2019, the rehousing system helped 22,769 people move into permanent housing. And many more people occupy interim housing this year: 18,395 people experiencing homelessness in L.A. County were sheltered, up from 14,722 the previous year, a 25% increase. The impact of the "A Bridge Home" program was seen in the 39% increase in the city of Los Angeles sheltered population, from 8,944 to 12,438.", LAHSA Homeless Report, 2021.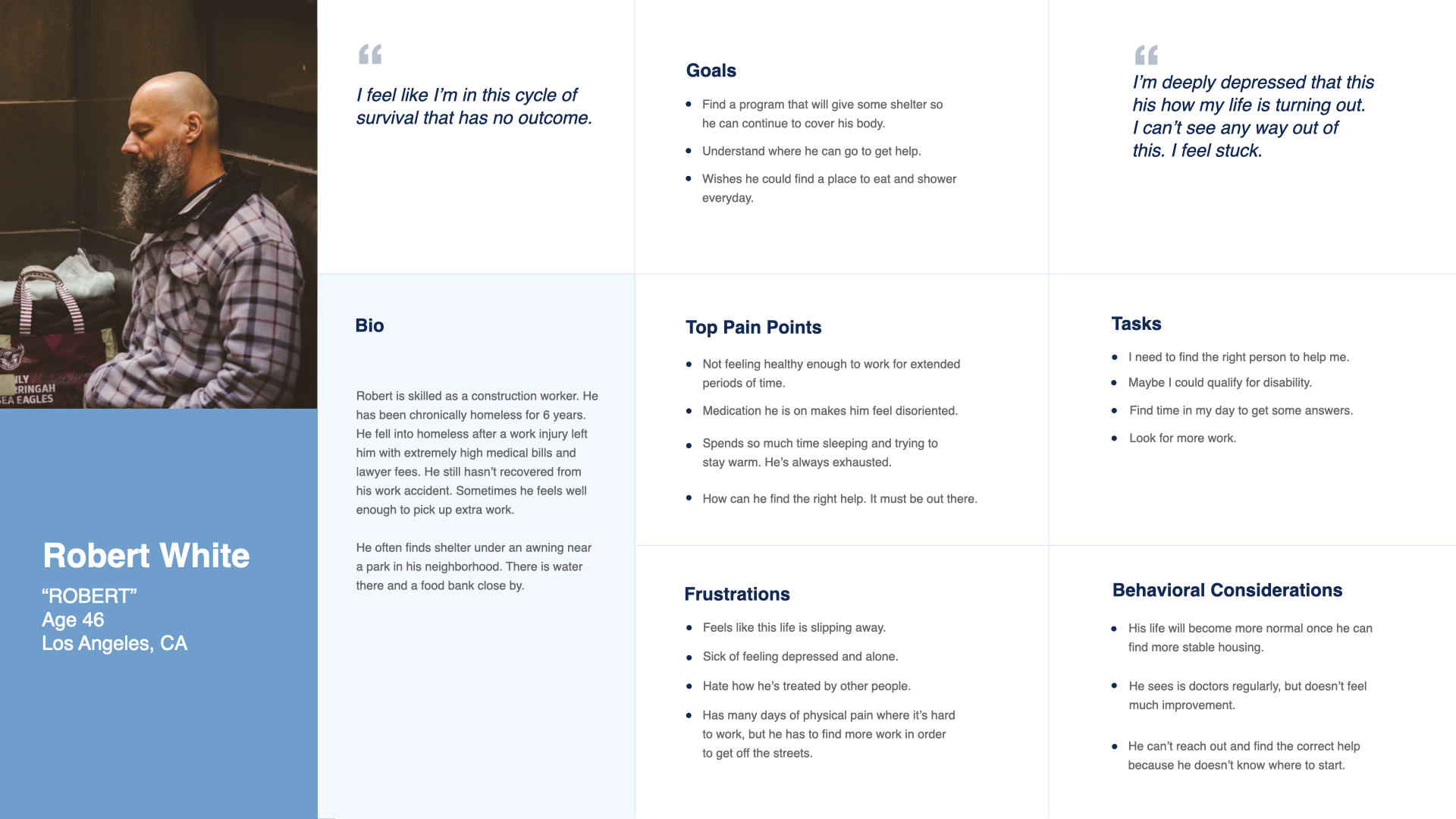 Persona
This persona represents one story of a person who experiences homelessness. The golden rule of social services is to help people get housed, under the "Housing First" umbrella. Once people are housed, they can get on their feet and start to put the pieces of their puzzle together.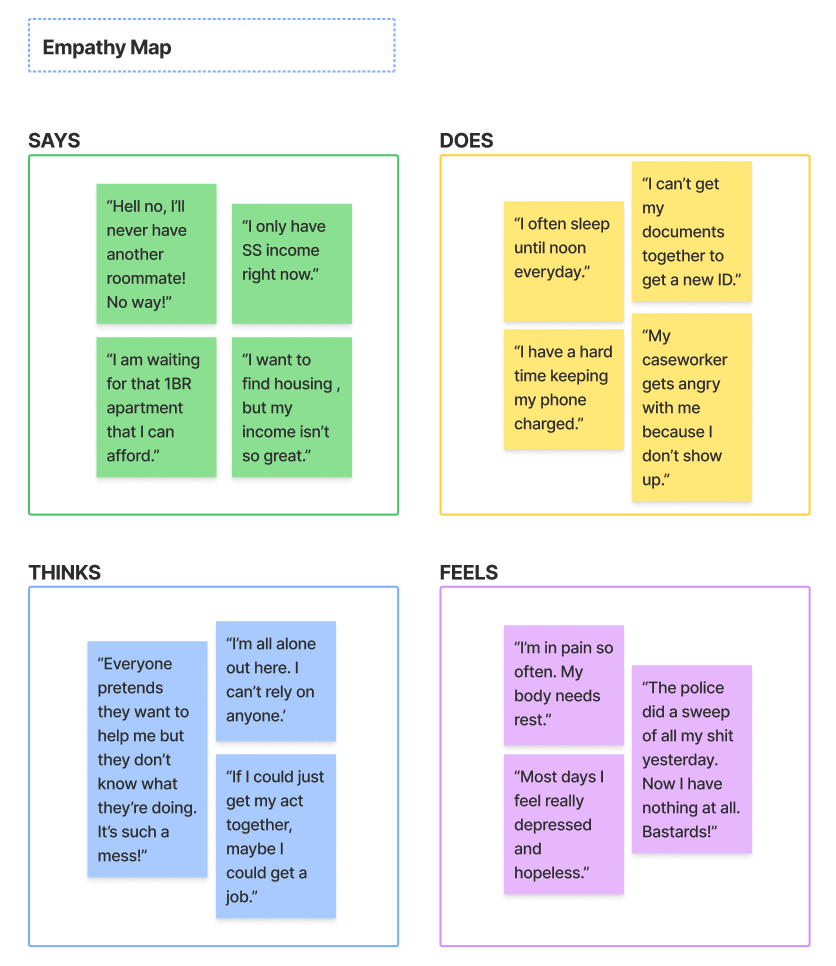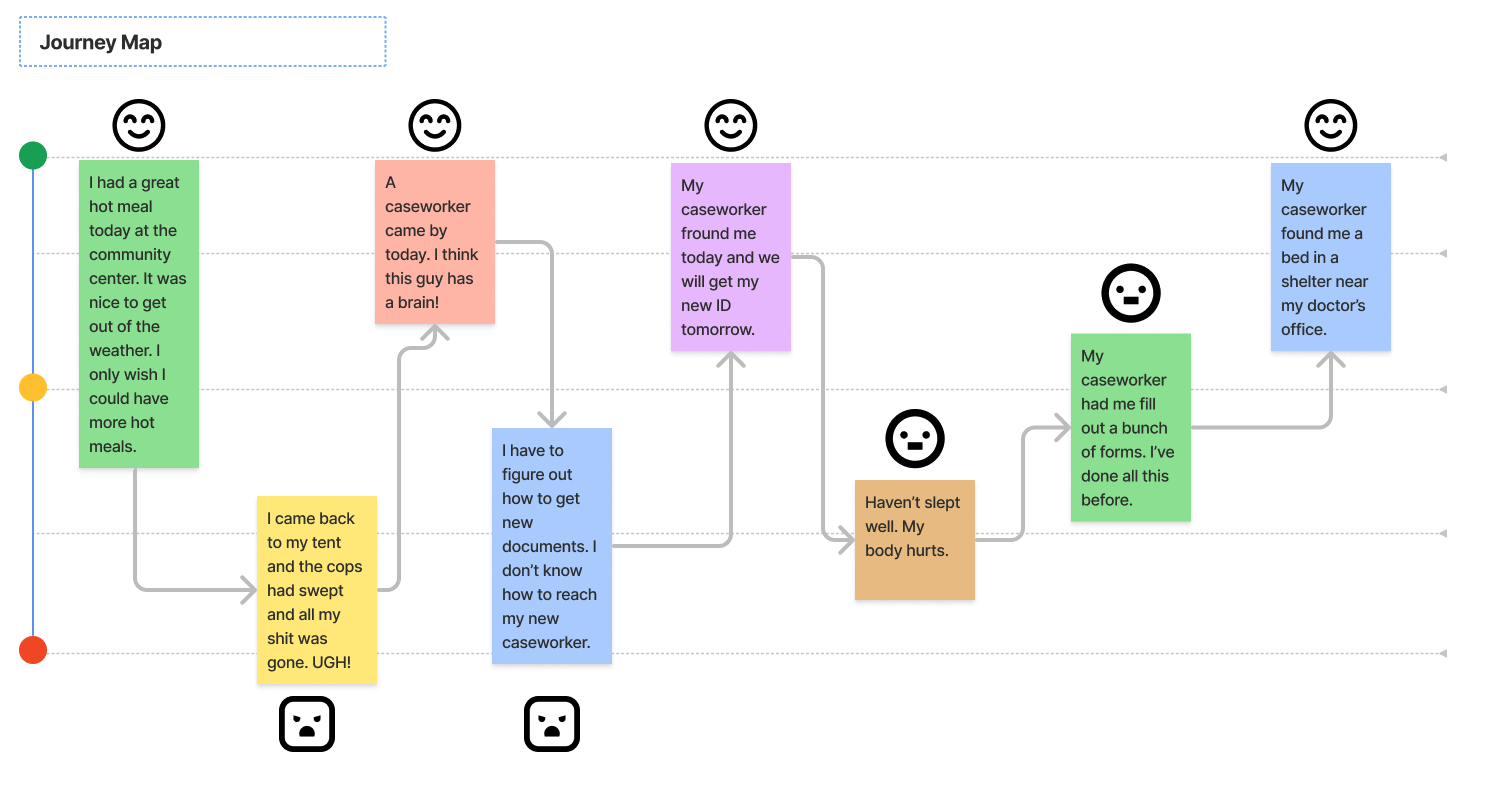 What pain points need to be addressed?
My interviews and work as the housemate matcher were key to understanding the enormity of this problem. In order to make this work, there we many solutions that needed to be put in place.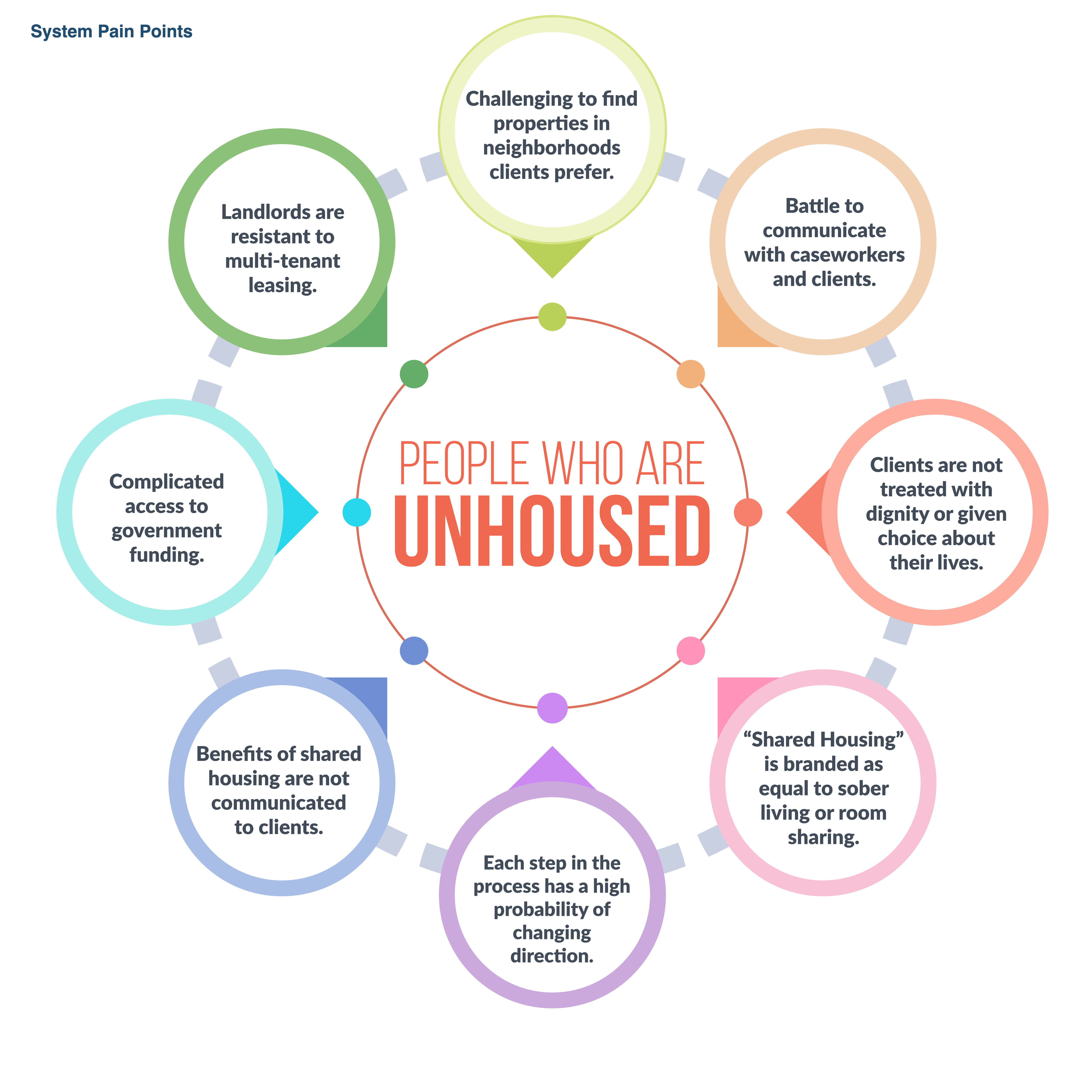 Mapping out the workflow at LAFH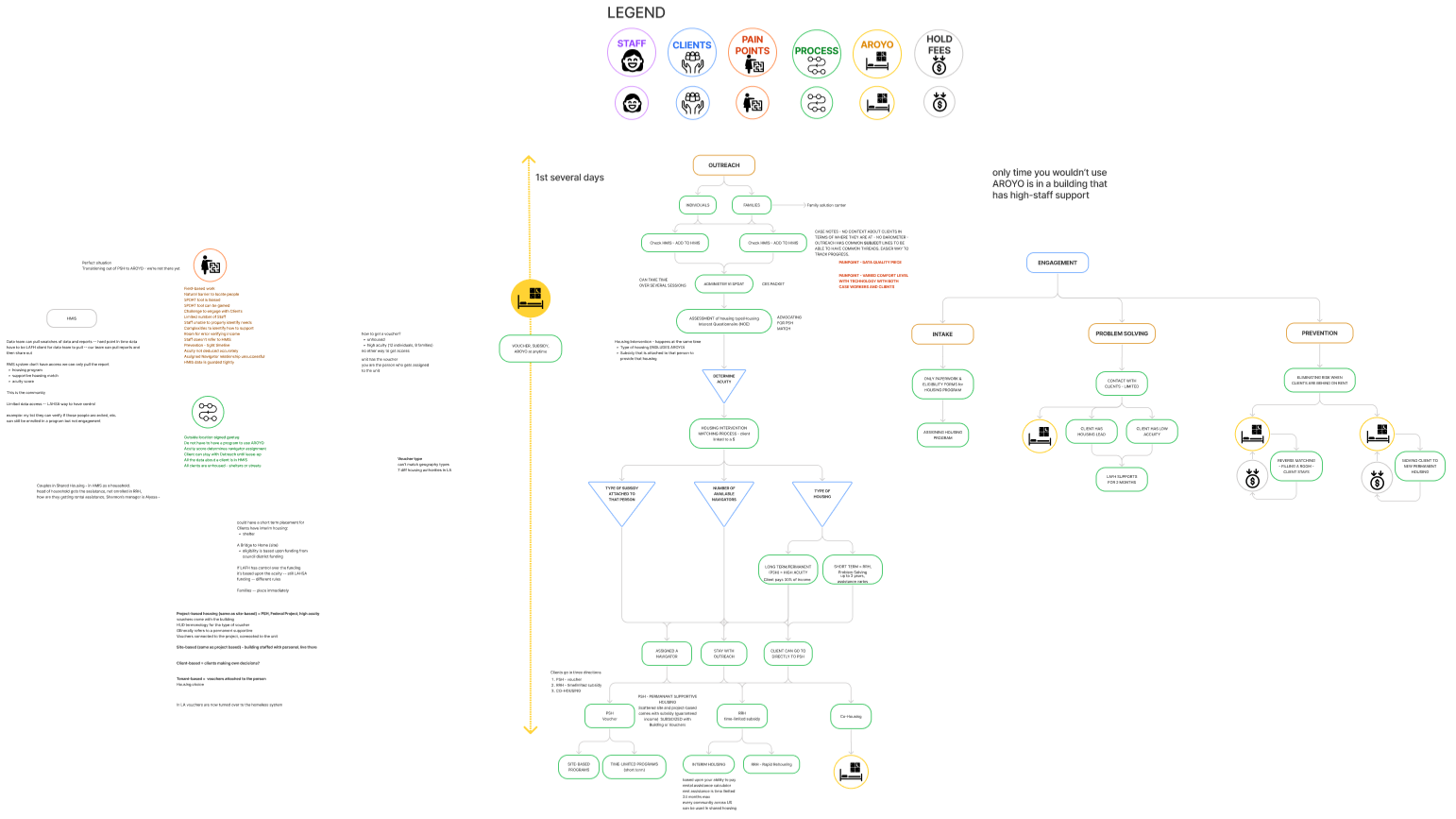 Where do our users live and what is their income?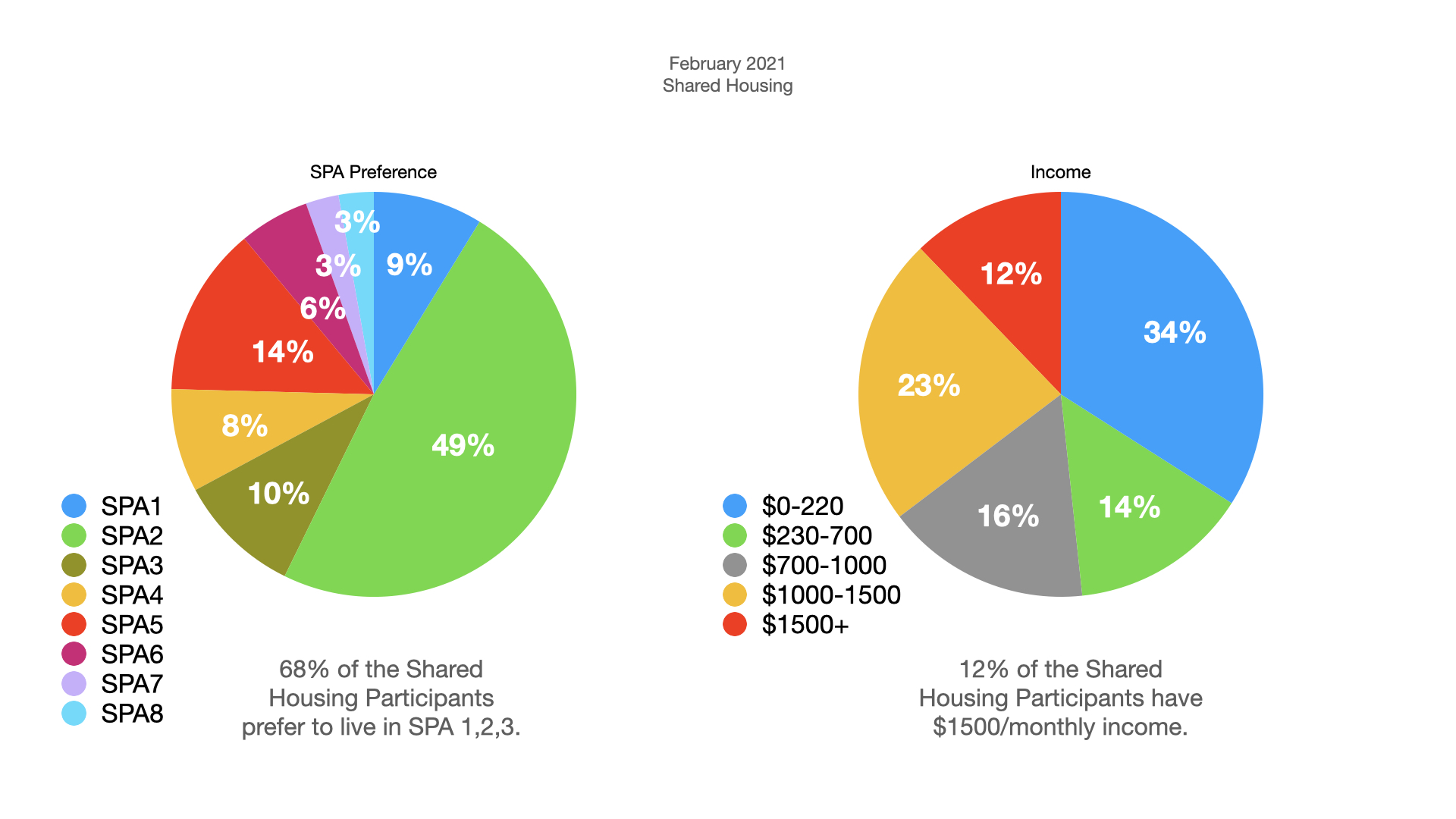 Two key insights
In my research, I discovered two primary issues with the tool LA Family Housing created for its clients.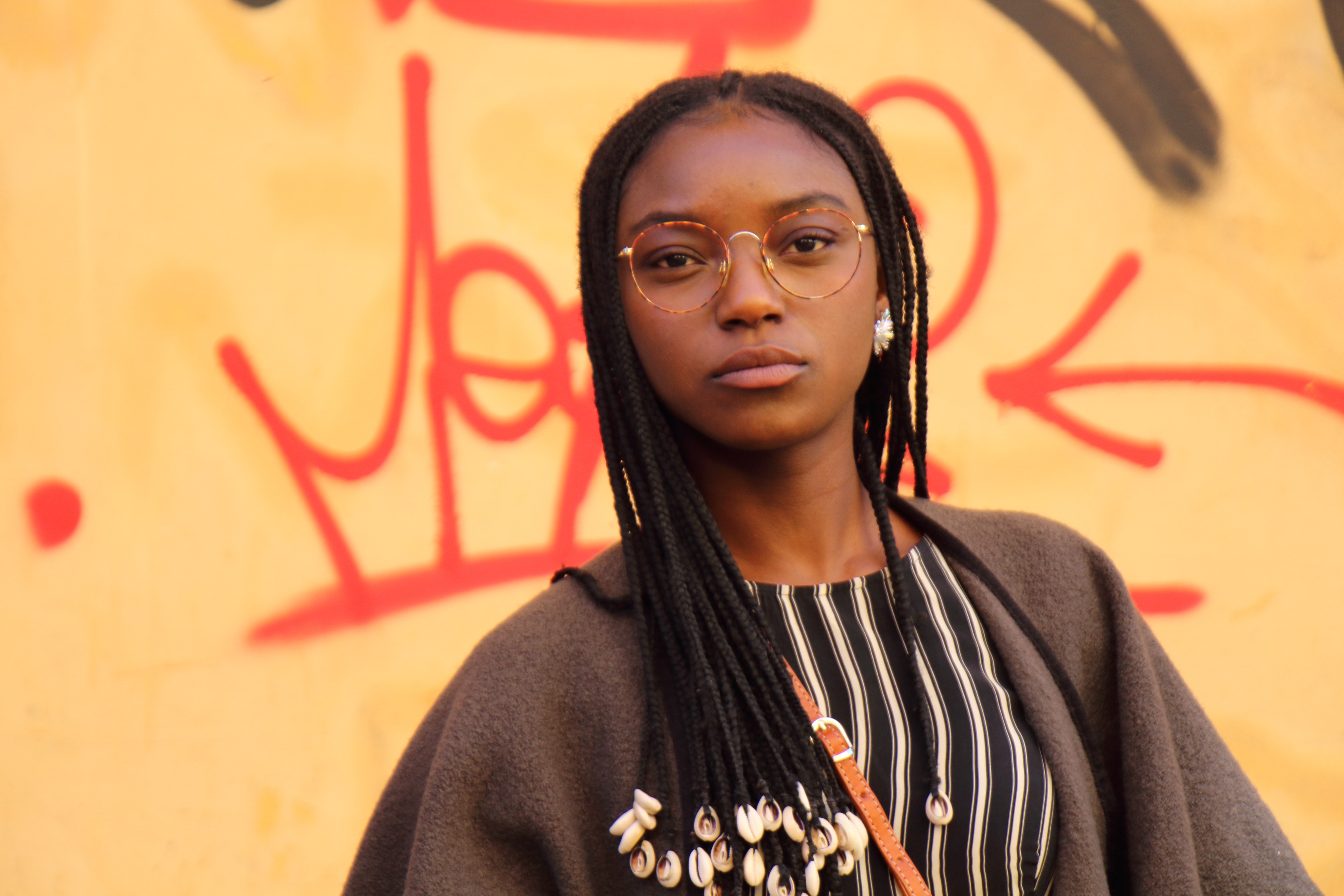 1st - The questionnaire in place wasn't connecting with clients.
The original questionnaire was not tailored to this population or their circumstances. The original developer made assumptions about what was important to this population and never tested his assumptions.
After my testing with several clients, I gained valuable insights into the critical concerns our clients have.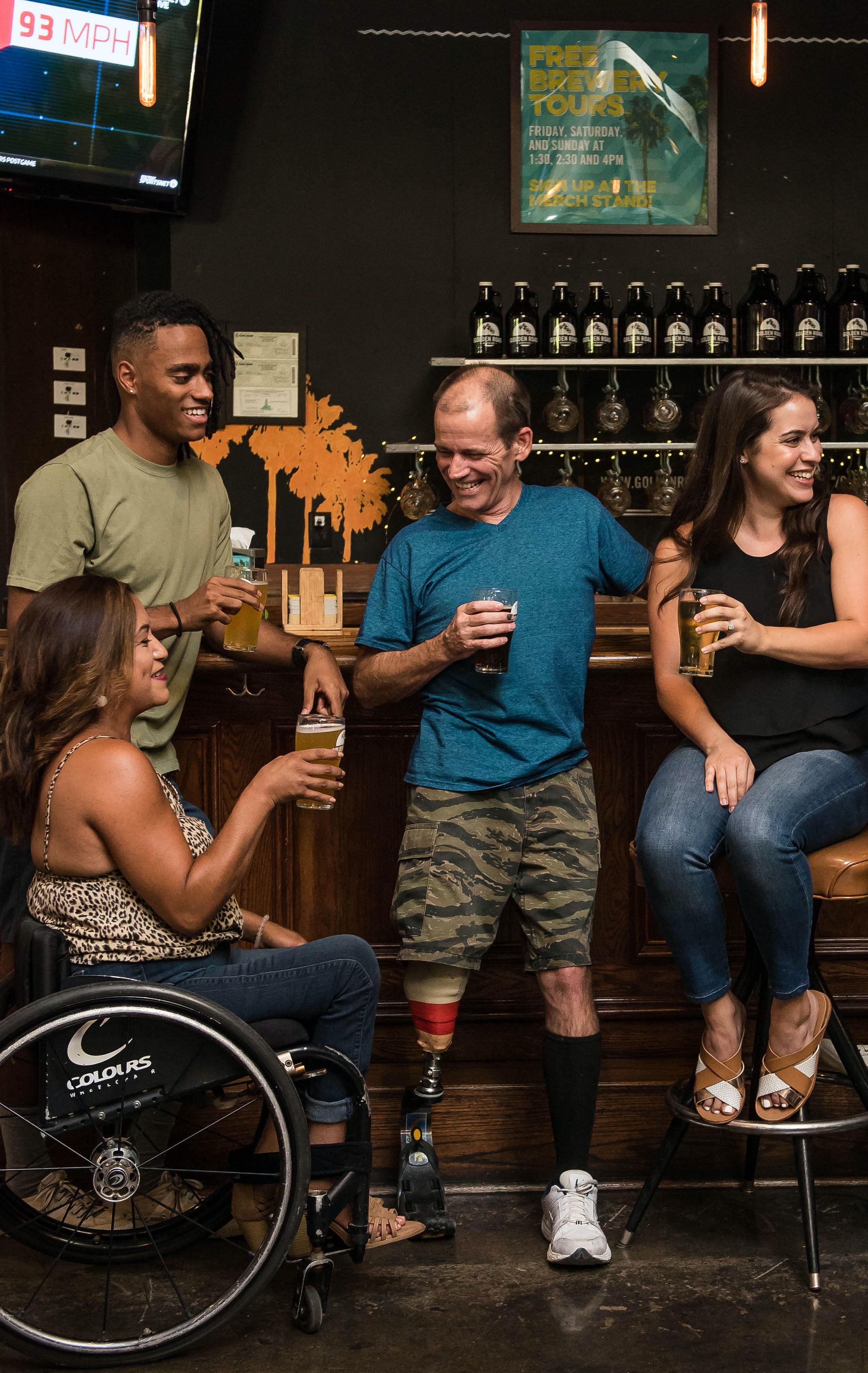 2nd - Order of events and the user flow.
The primary goal of giving people their own lease meant training a team of realtors to sell property owners the concept of multi-tenant leasing. This is a difficult task. In college towns, property owners are more open to multi-tenant leases because parents are involved. For property owners to give this population a multi-tenant lease was quite a sales pitch and full of incentives especially during an eviction moratorium.
The original shared housing software started this matching process with the property. Once that rate property owner was found clients were sent to view it. This approach failed. People were overwhelmed with viewing the property, meeting each other, AND the landlord during COVID all at the same time.
After my testing this process with caseworkers and clients, I realized that the most difficult part of the problem had to be solved first. This whole process had to start with people. Once people we matched, they needed to meet. If all went well, they could view properties together.
Below is my Research Report about the data and my insights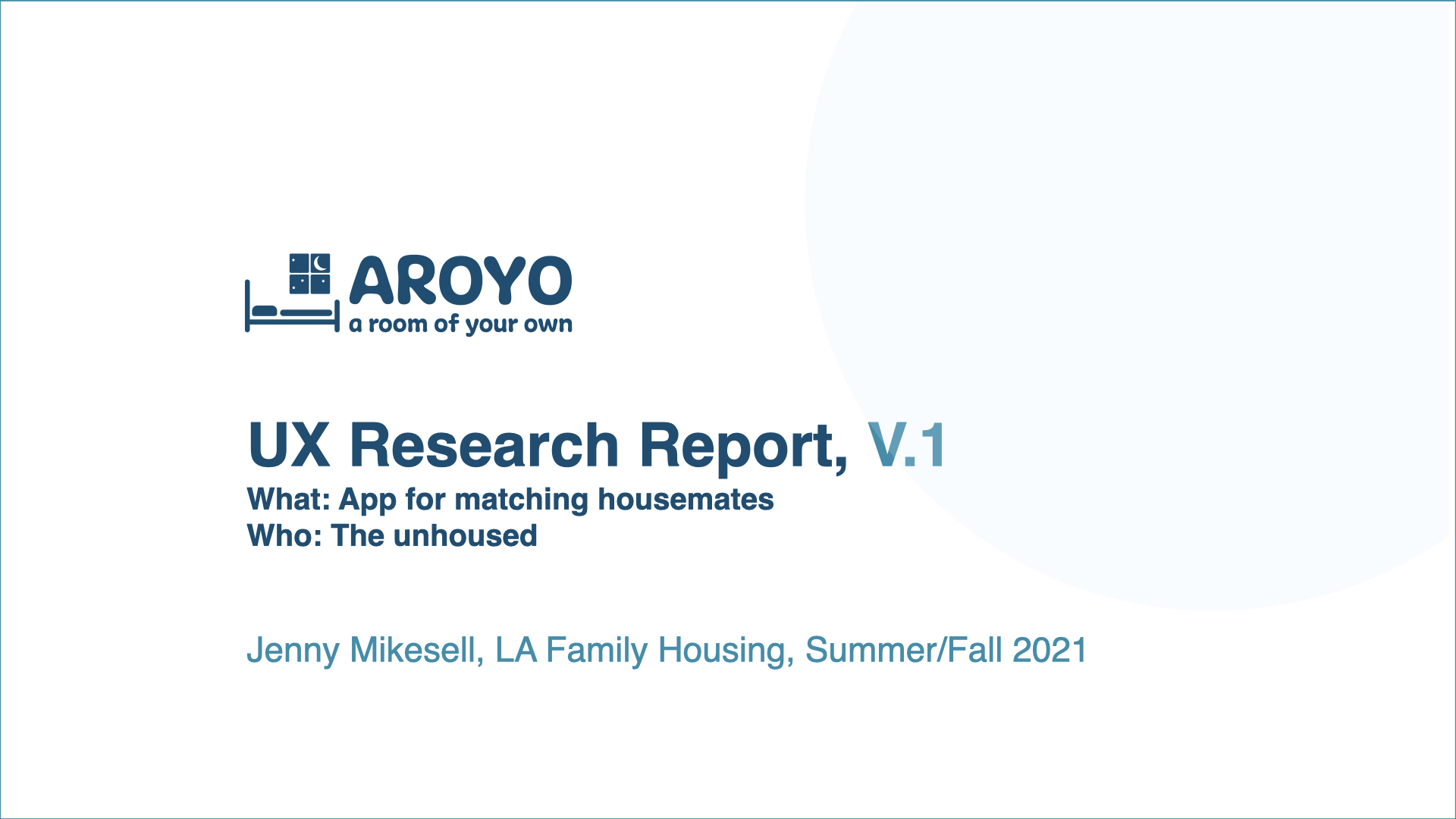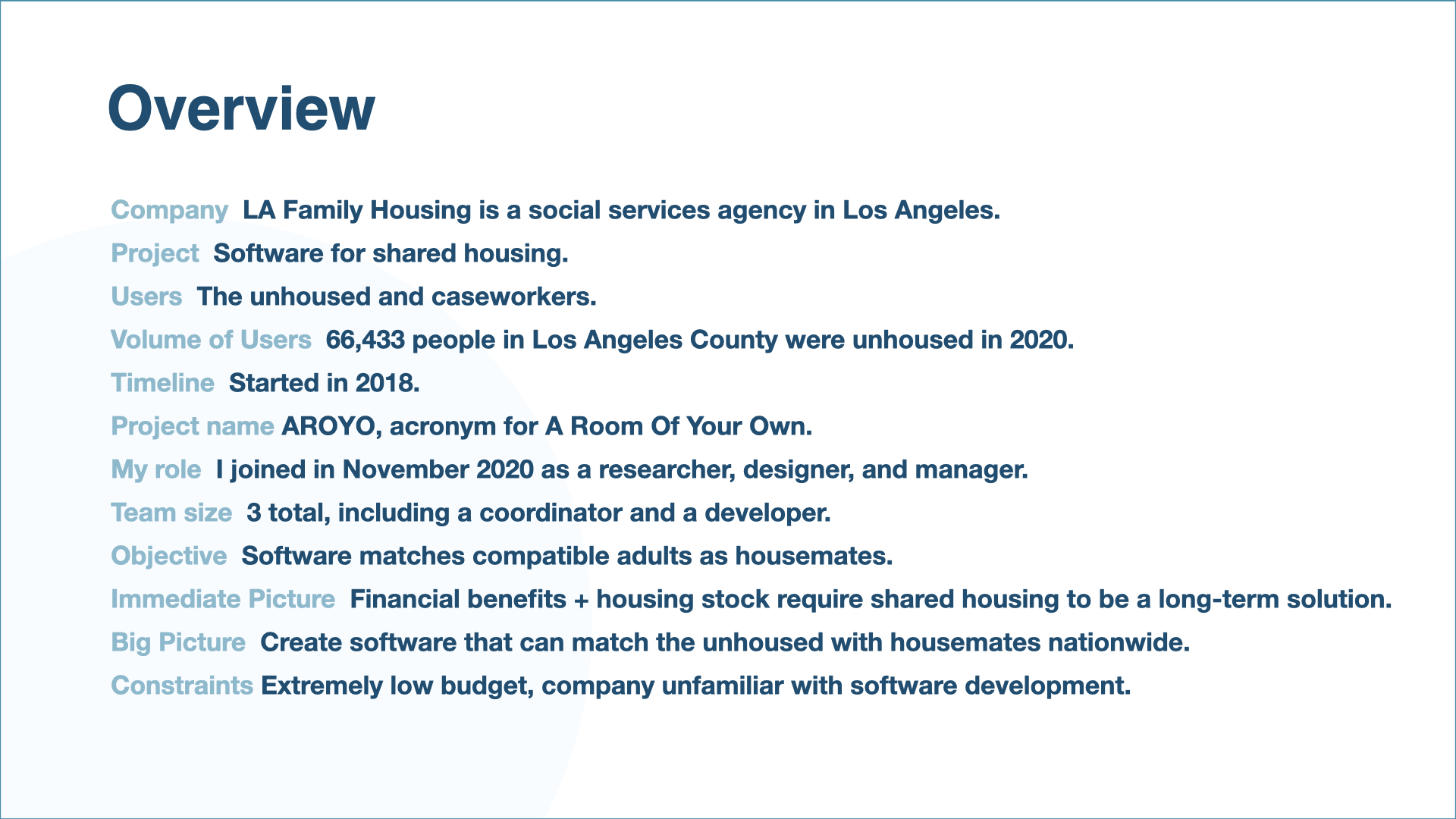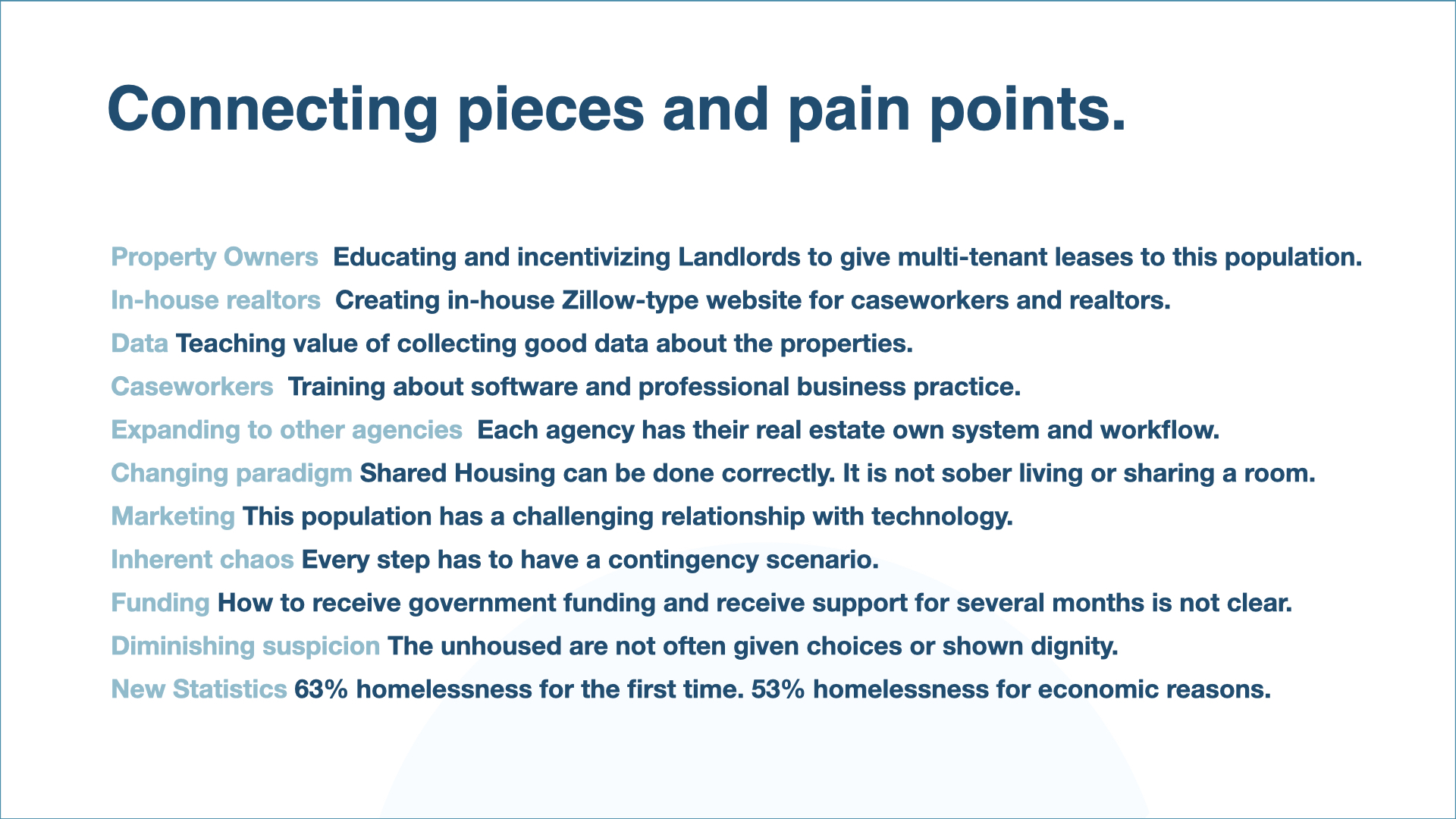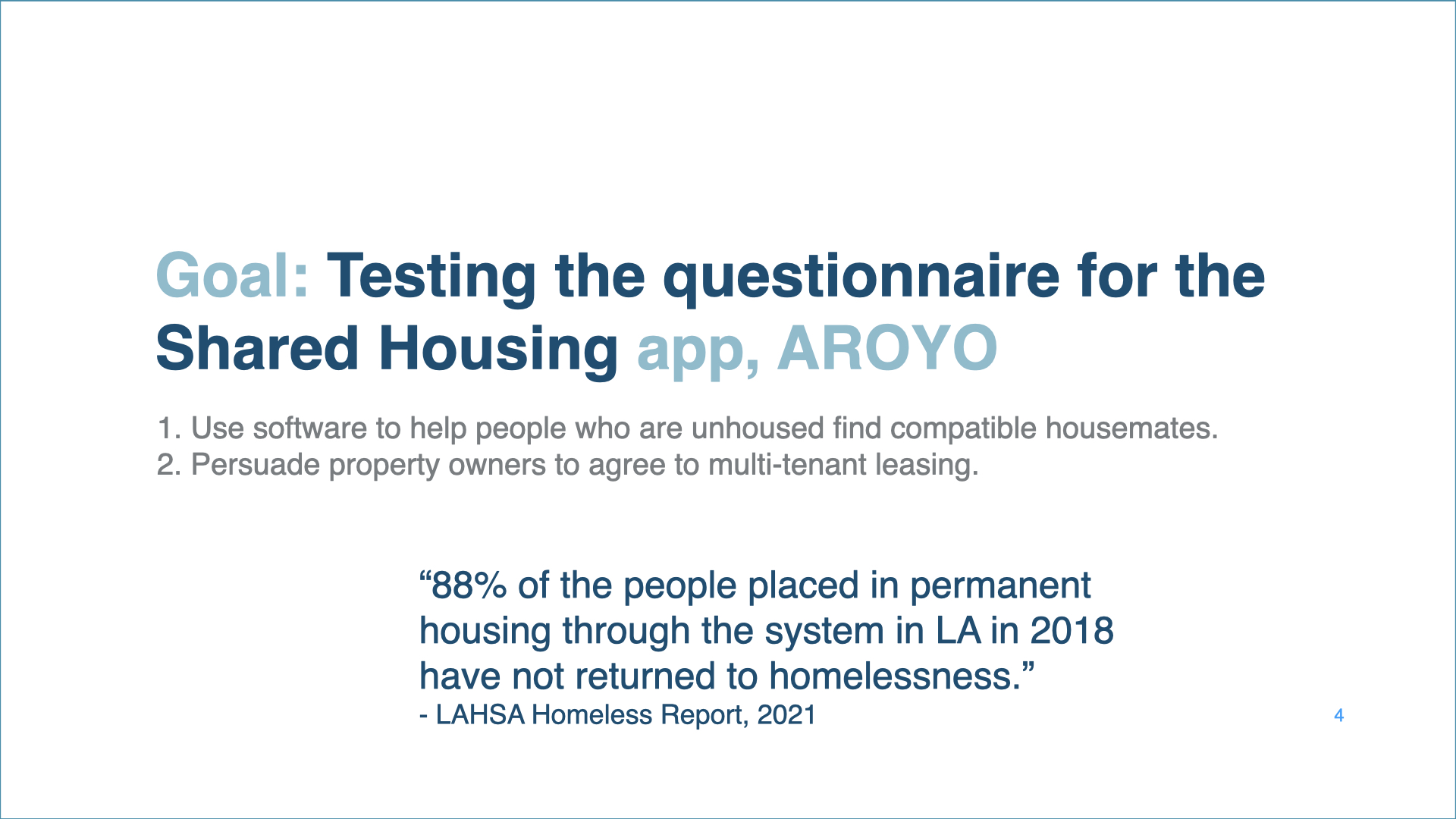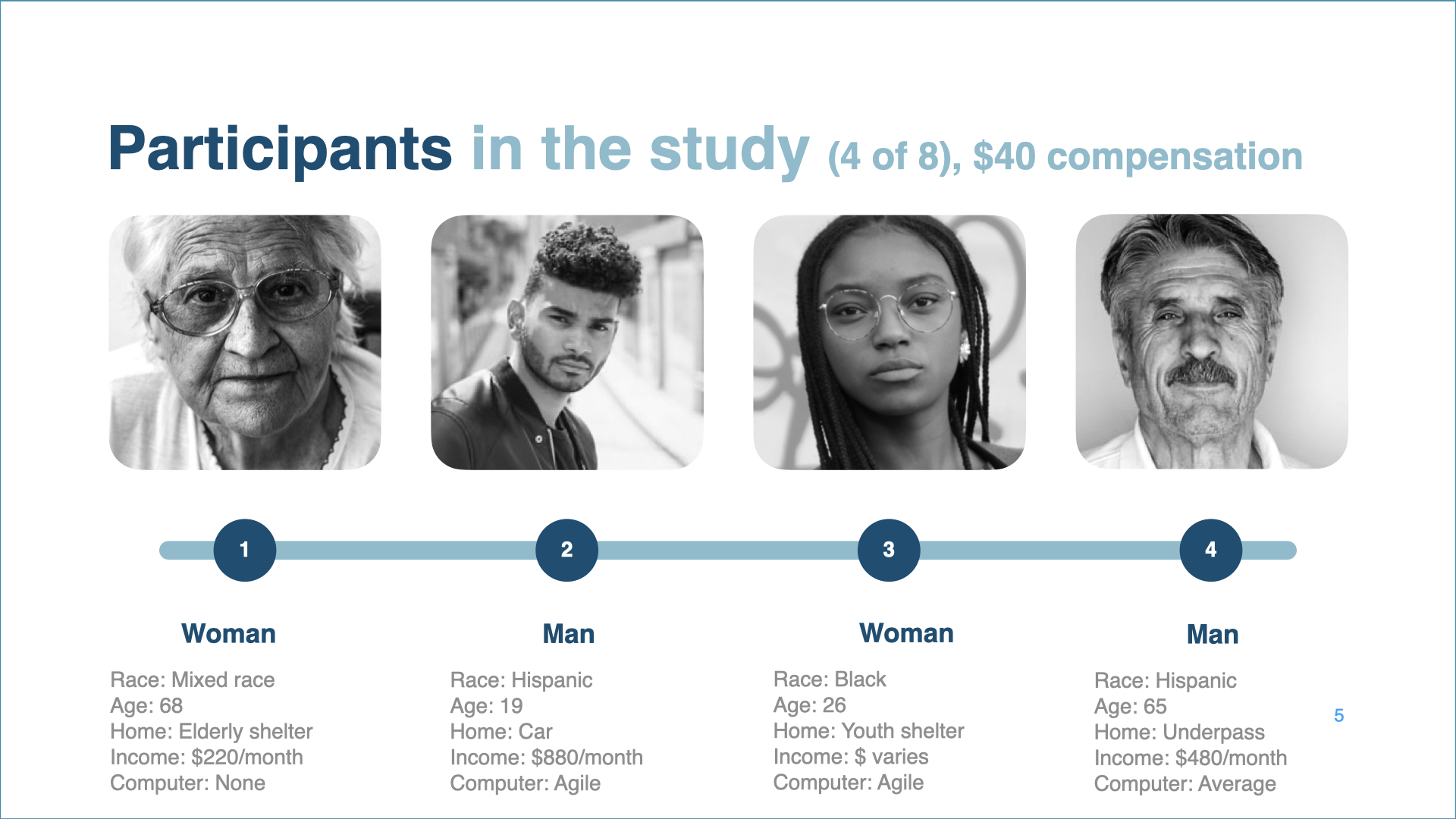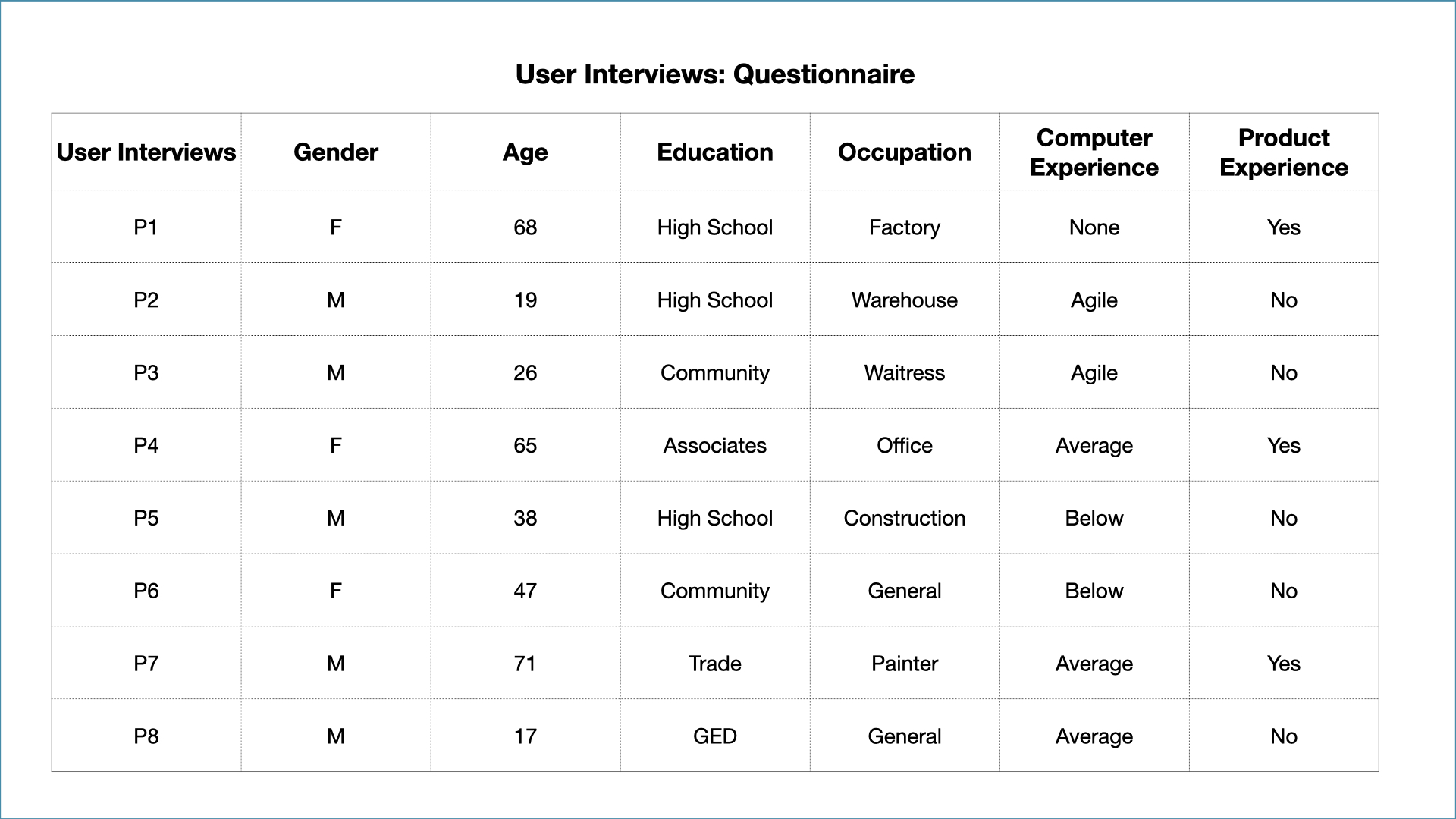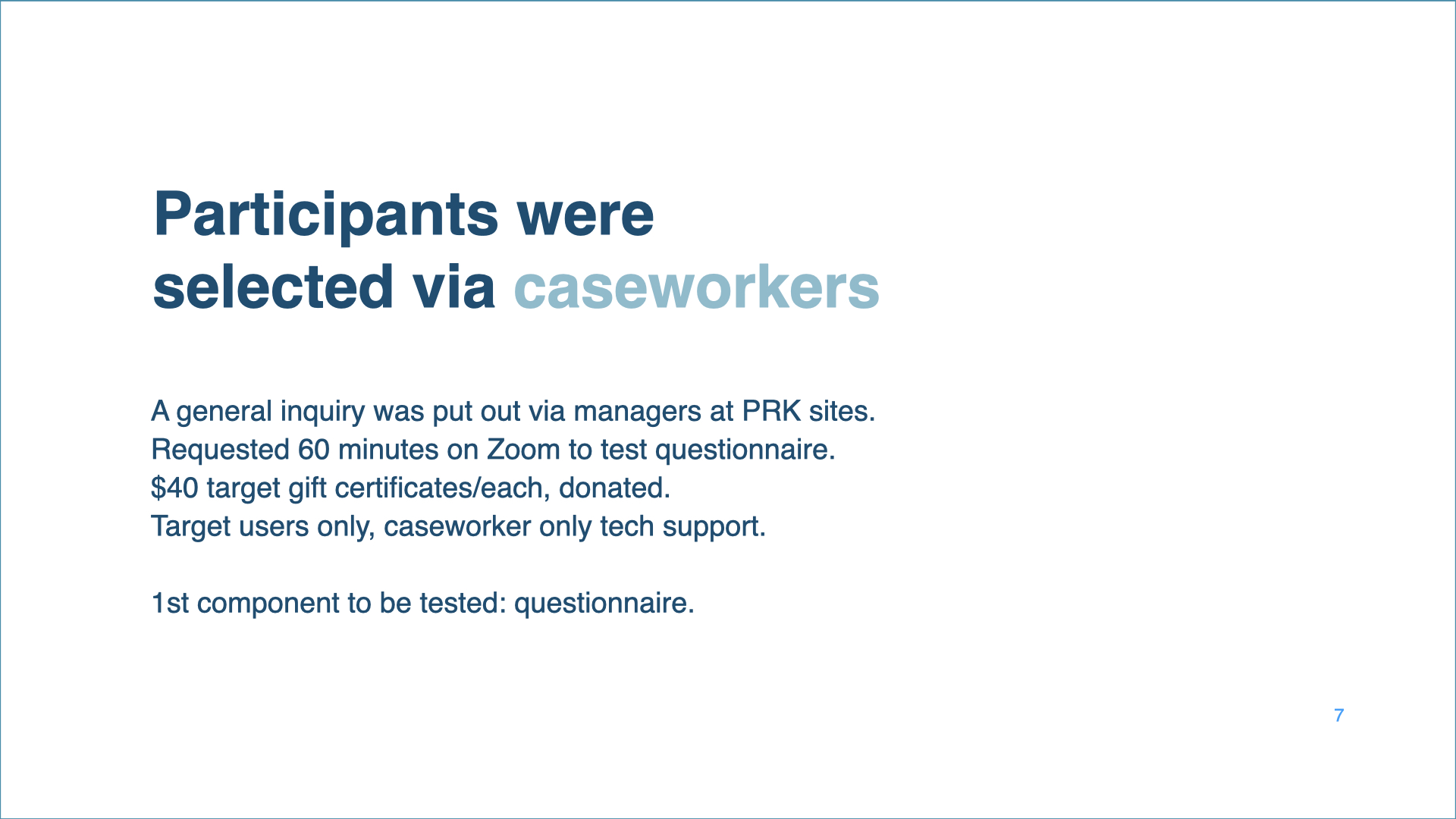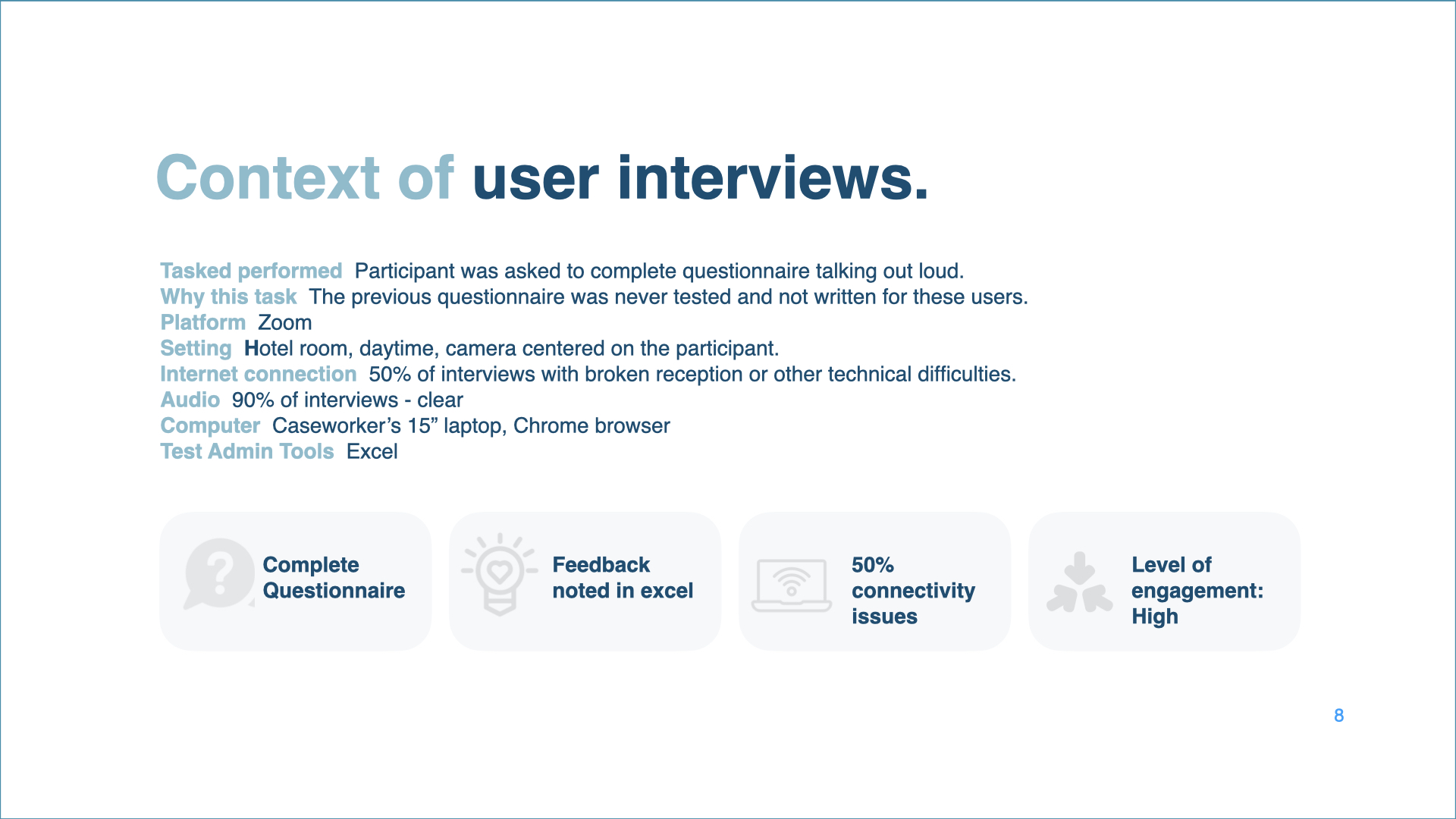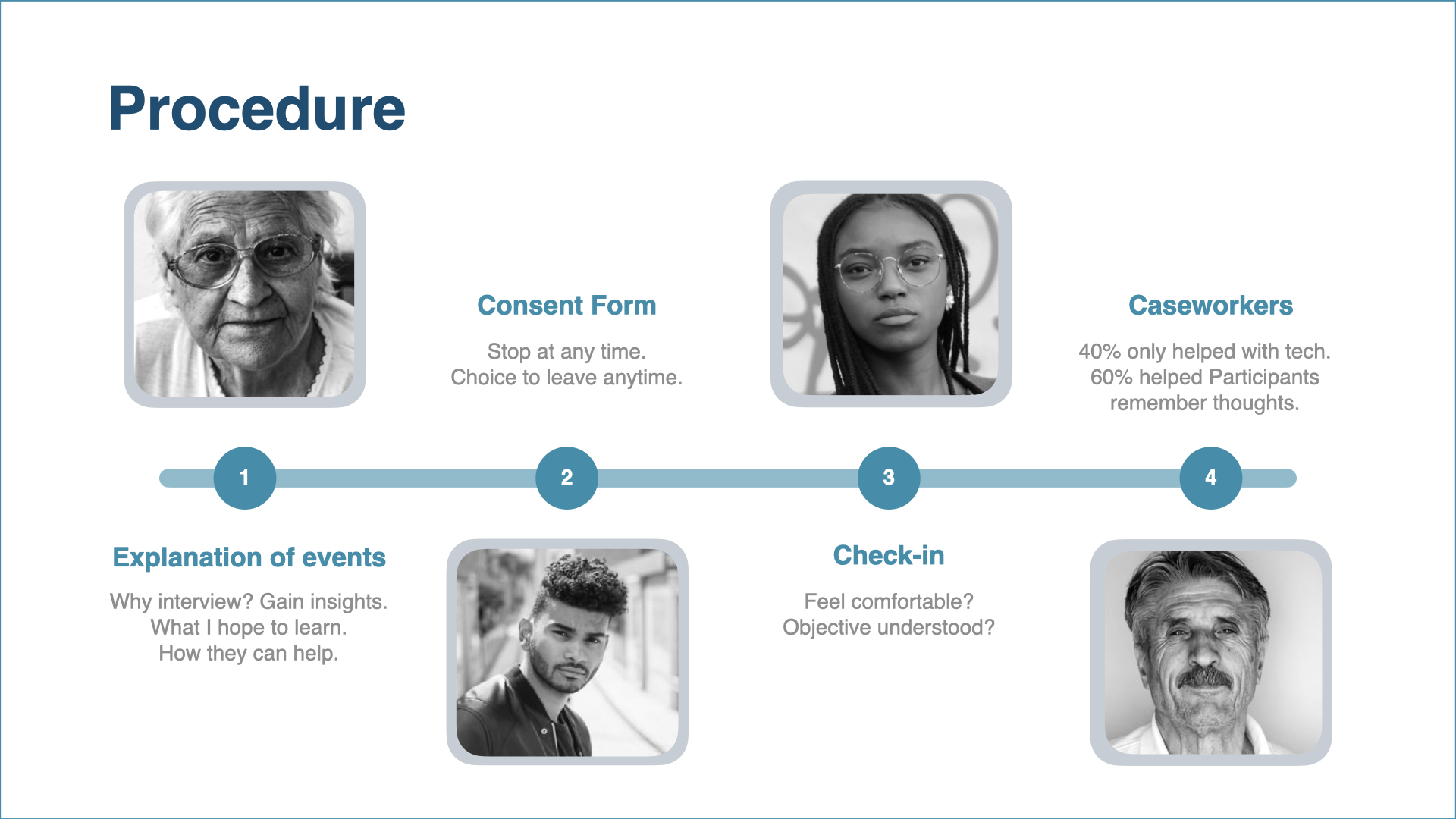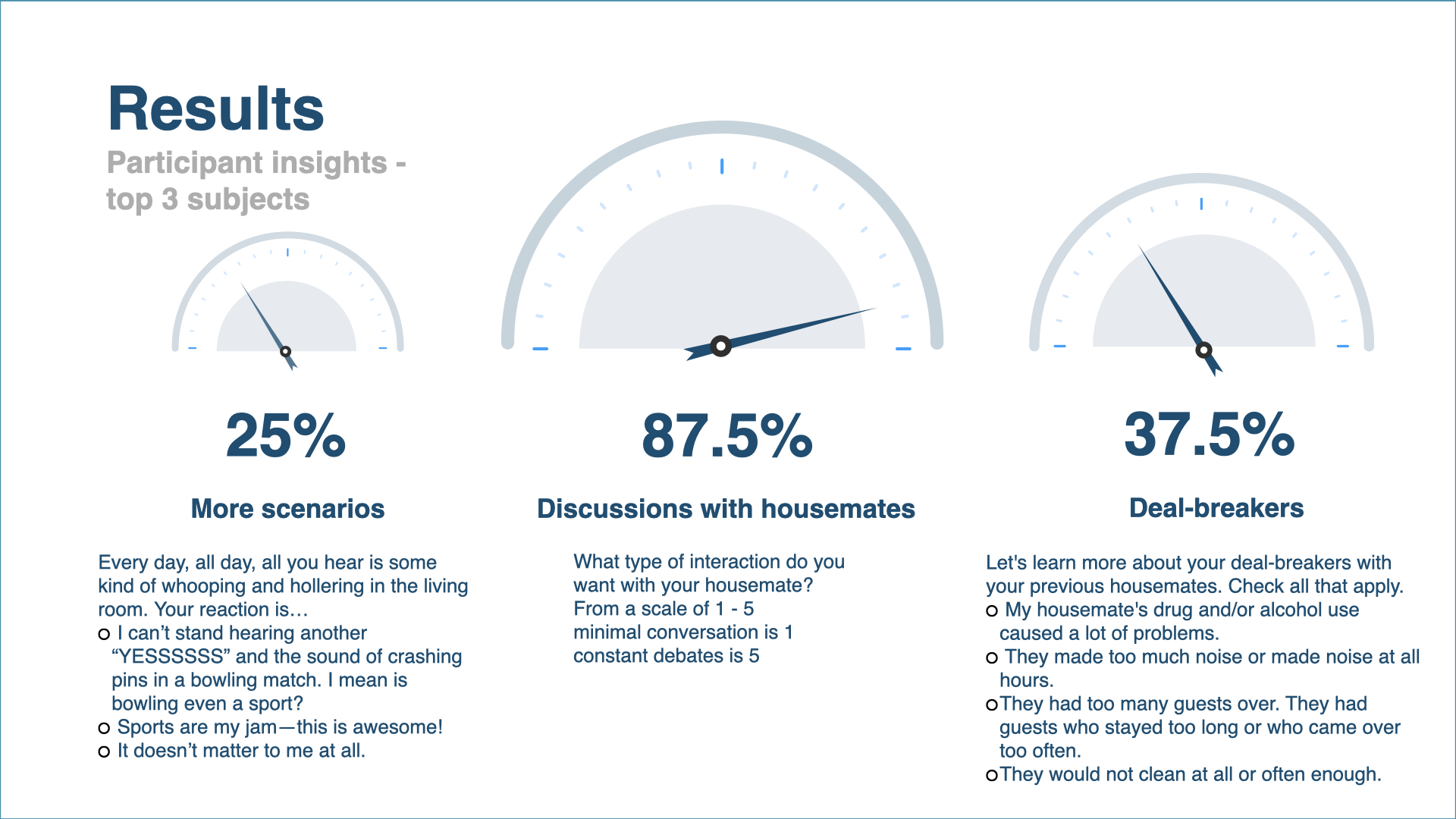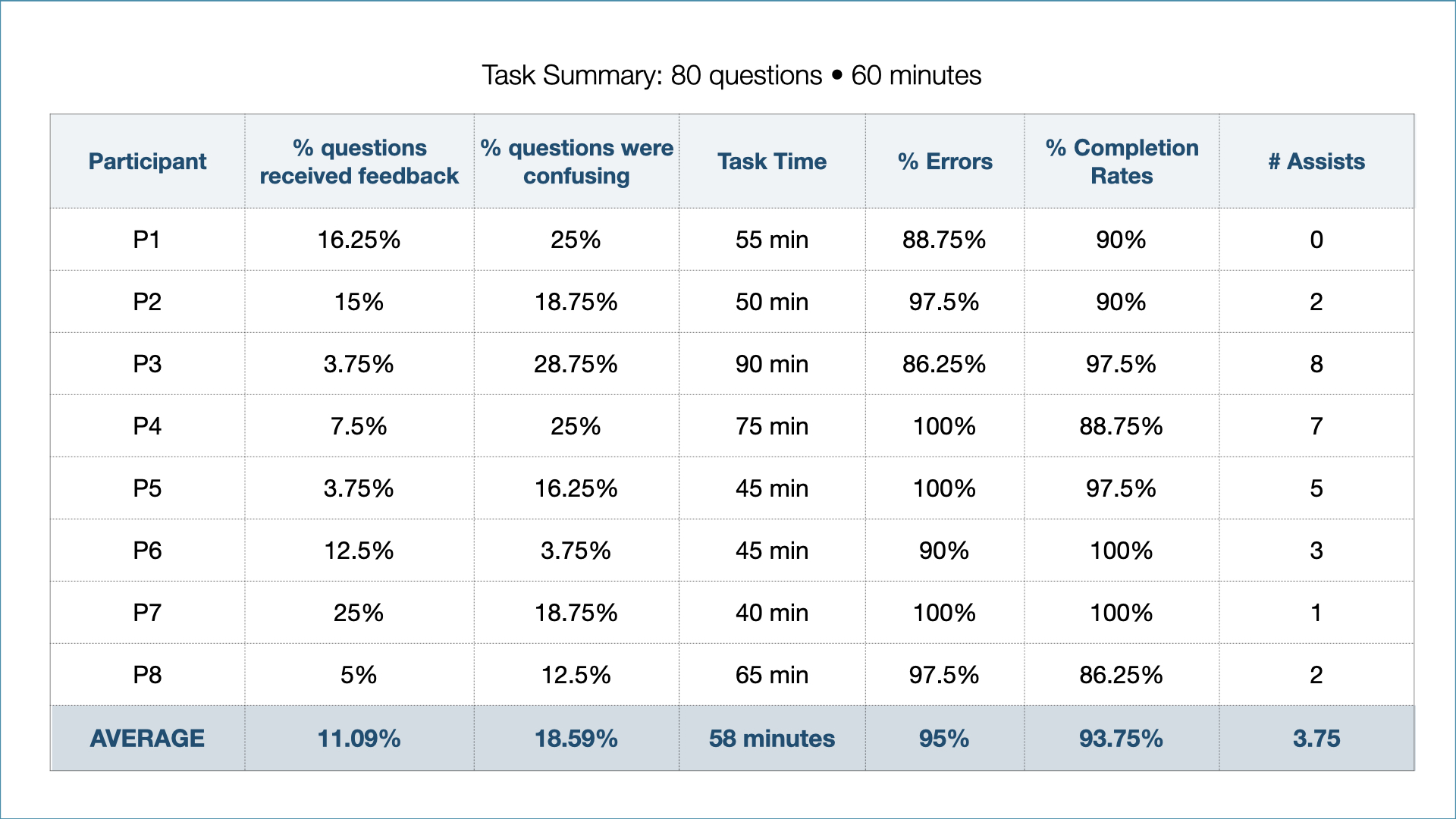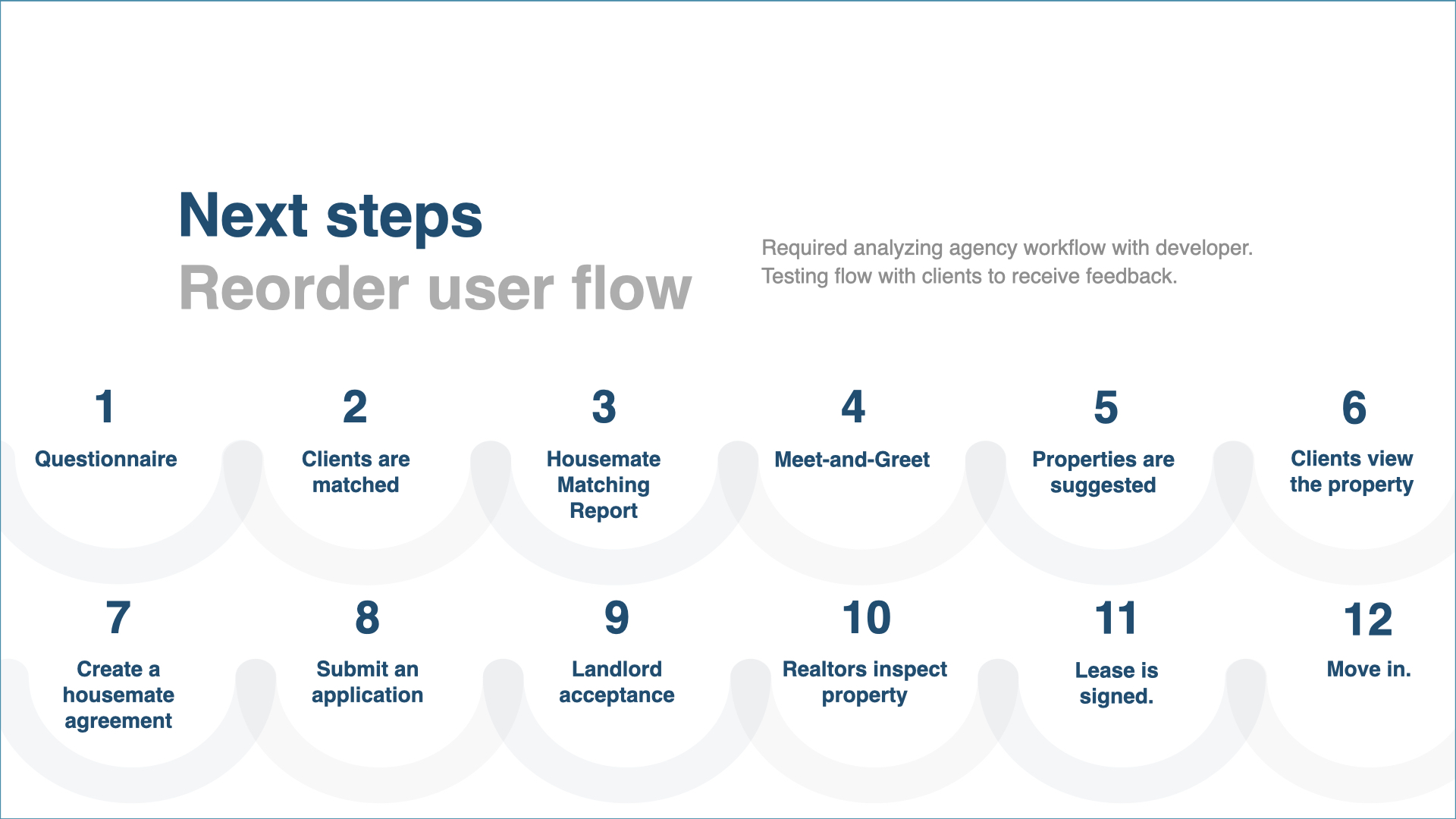 Putting the process in place.
Training caseworkers.
Below is the slide deck that walks case workers through the new shared housing processes.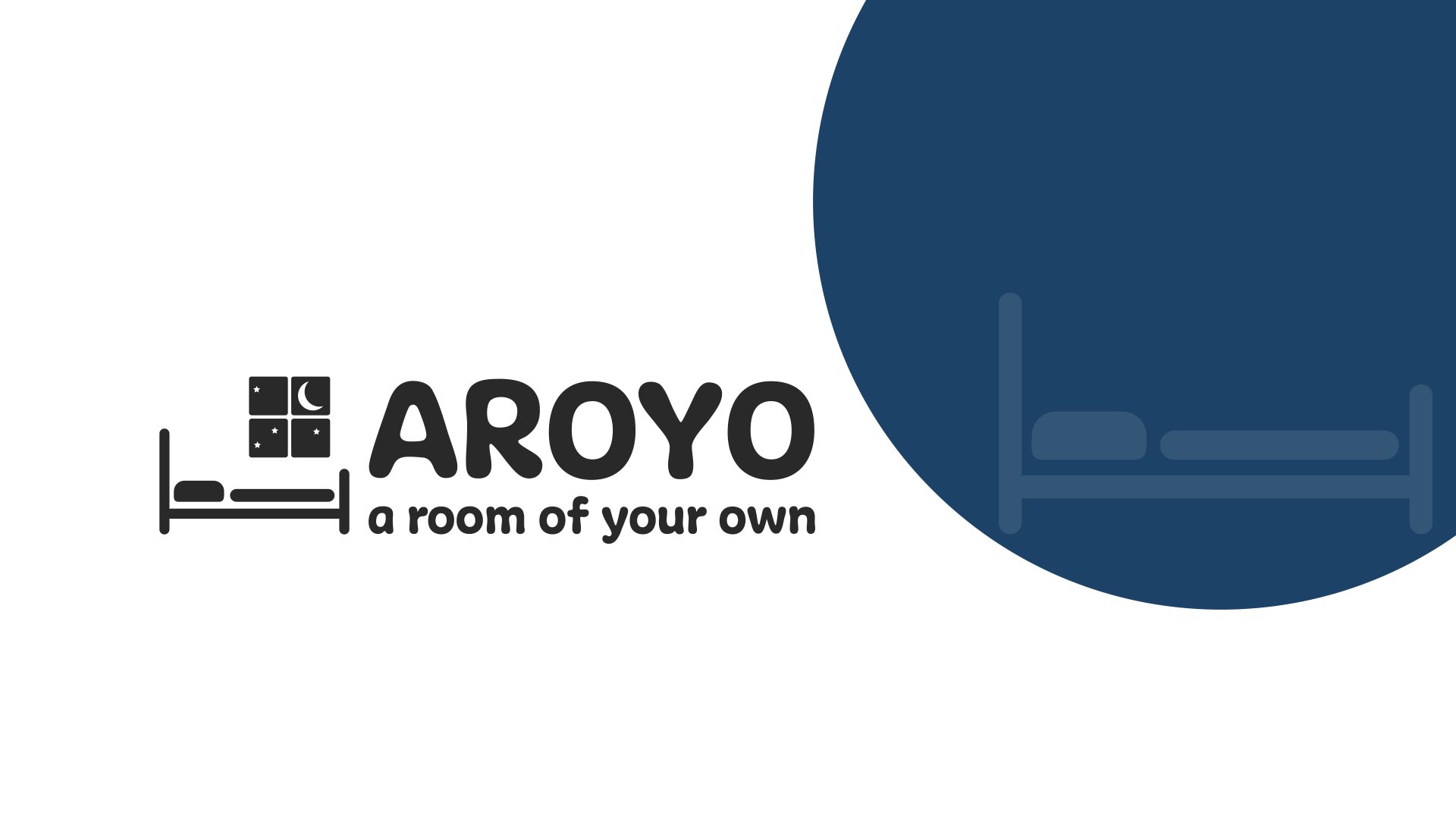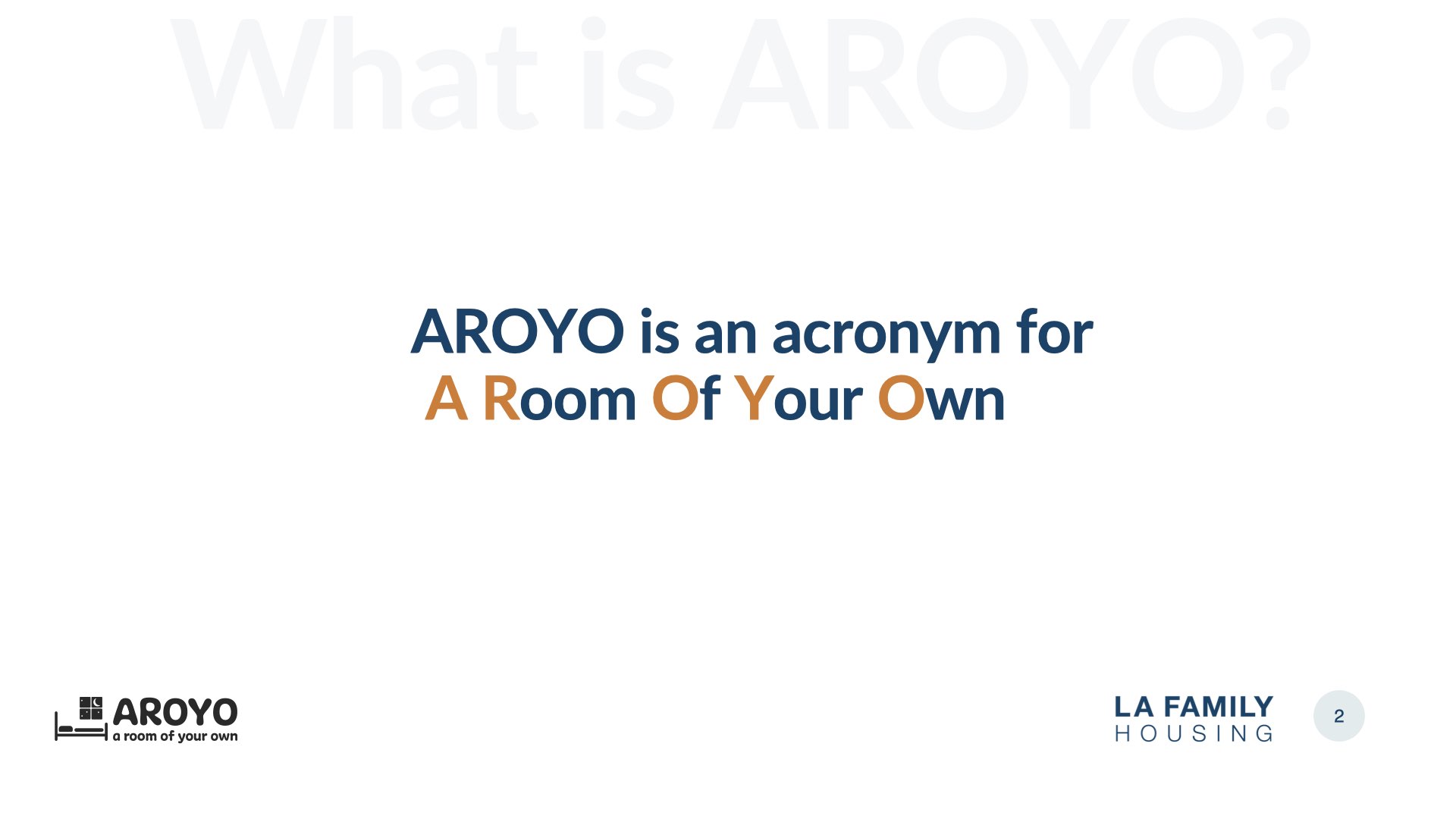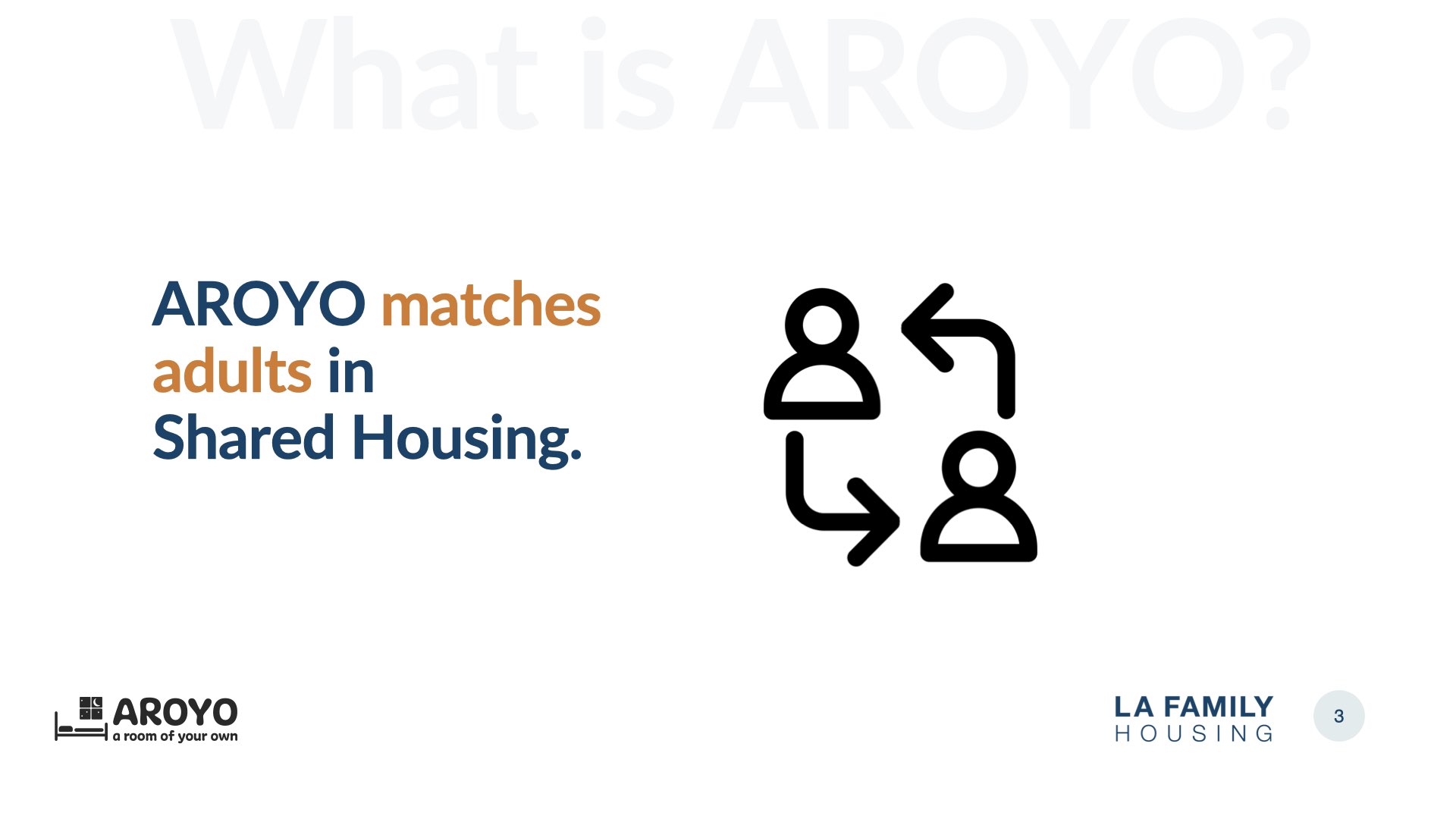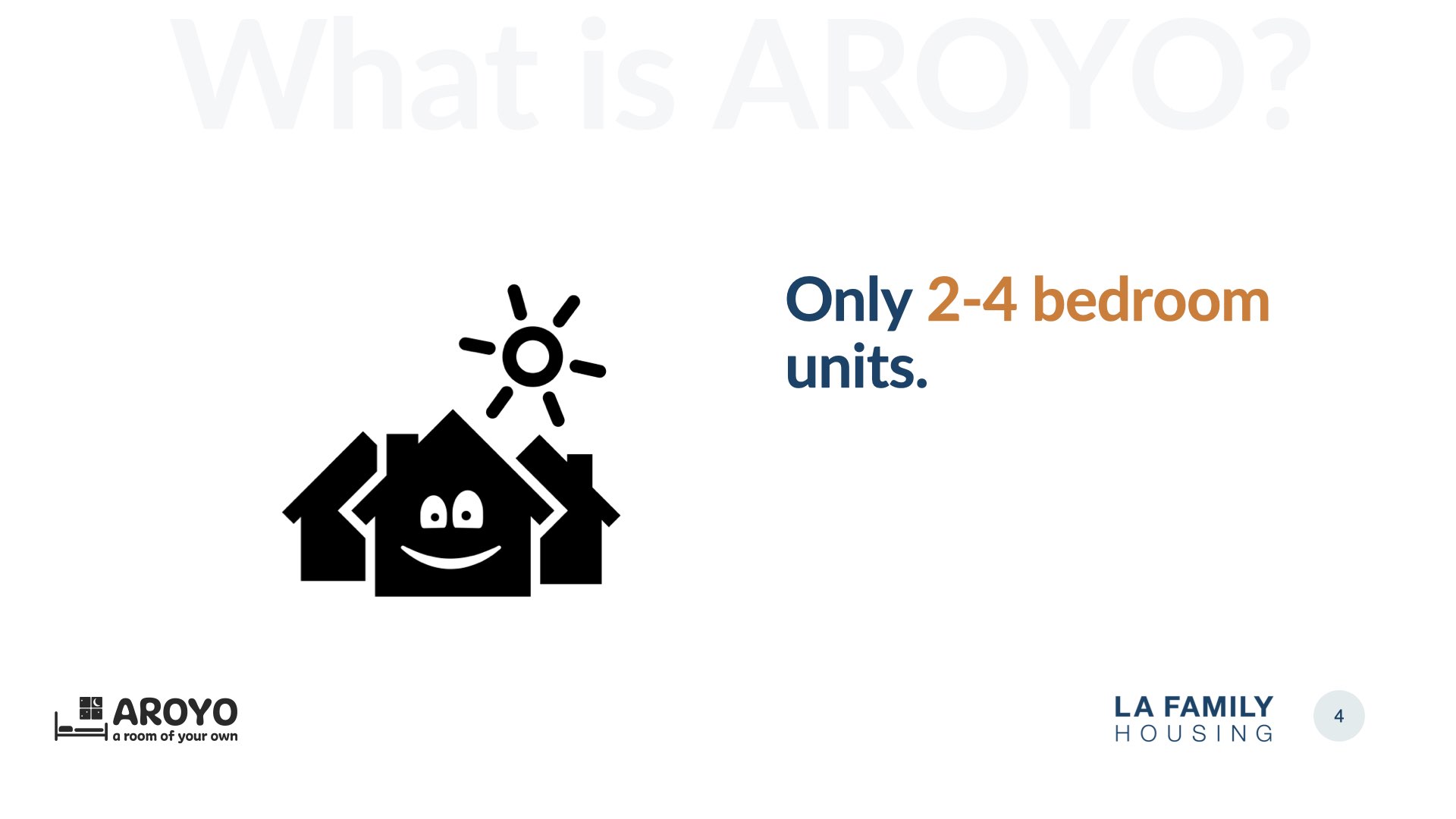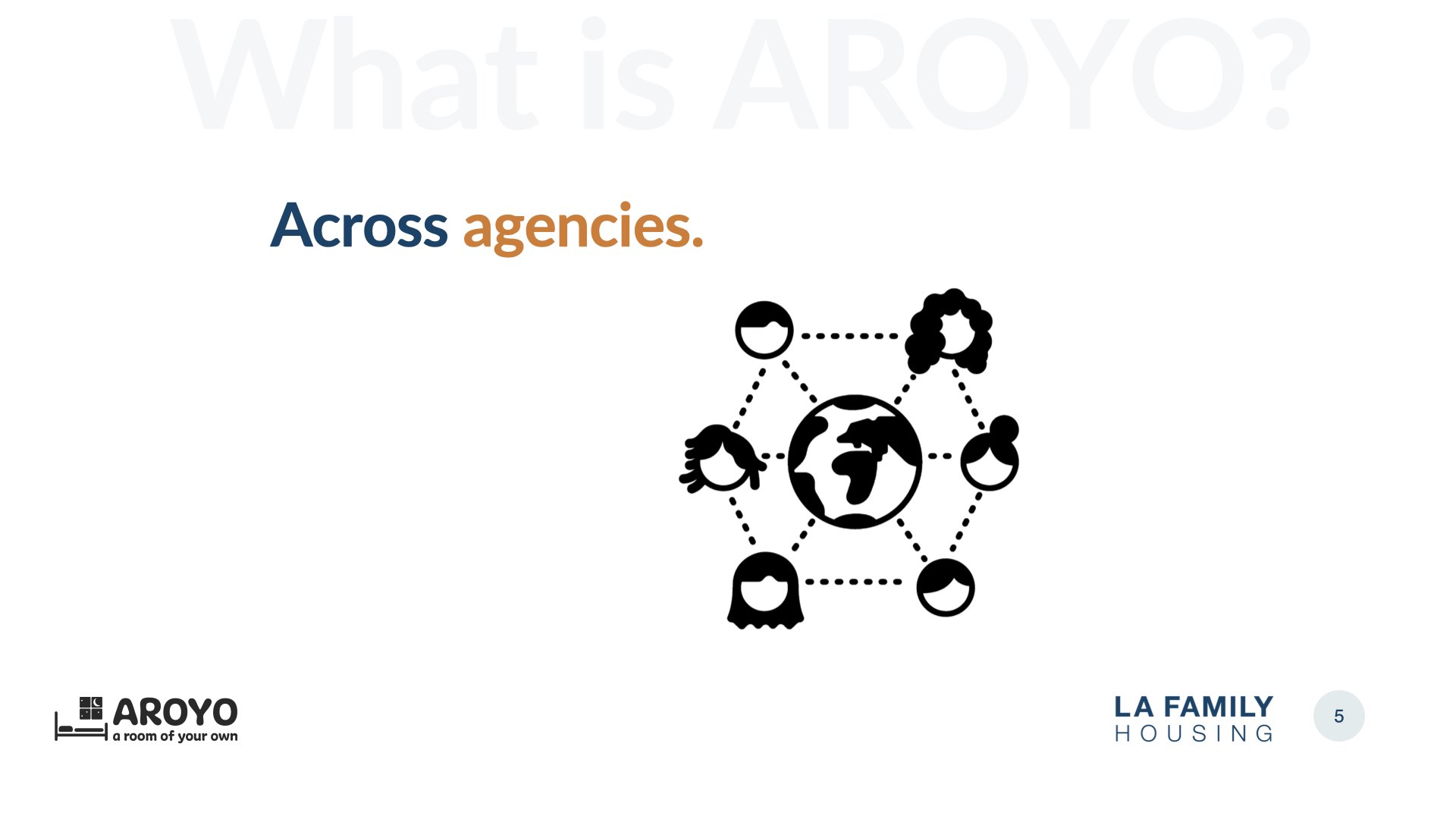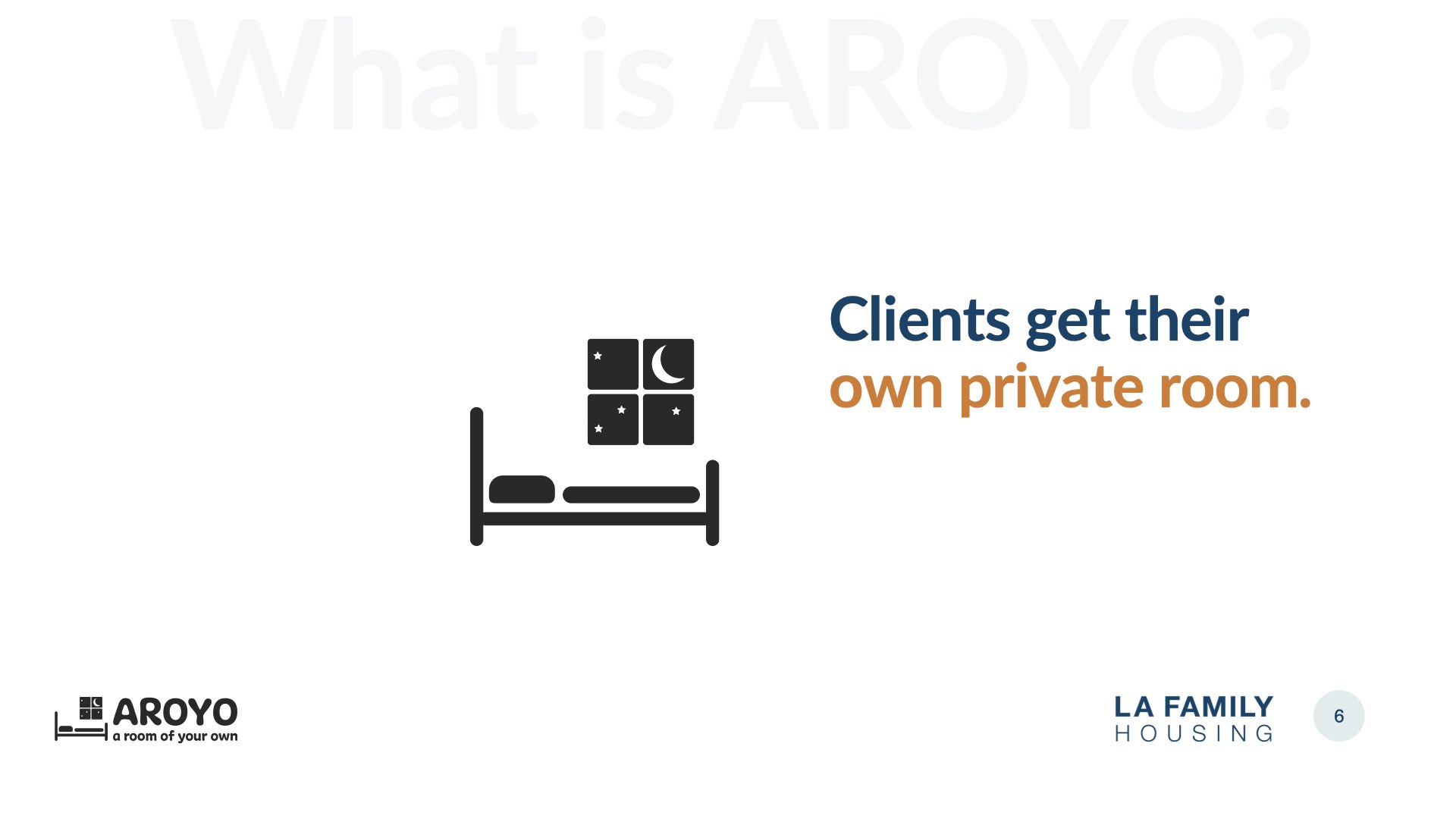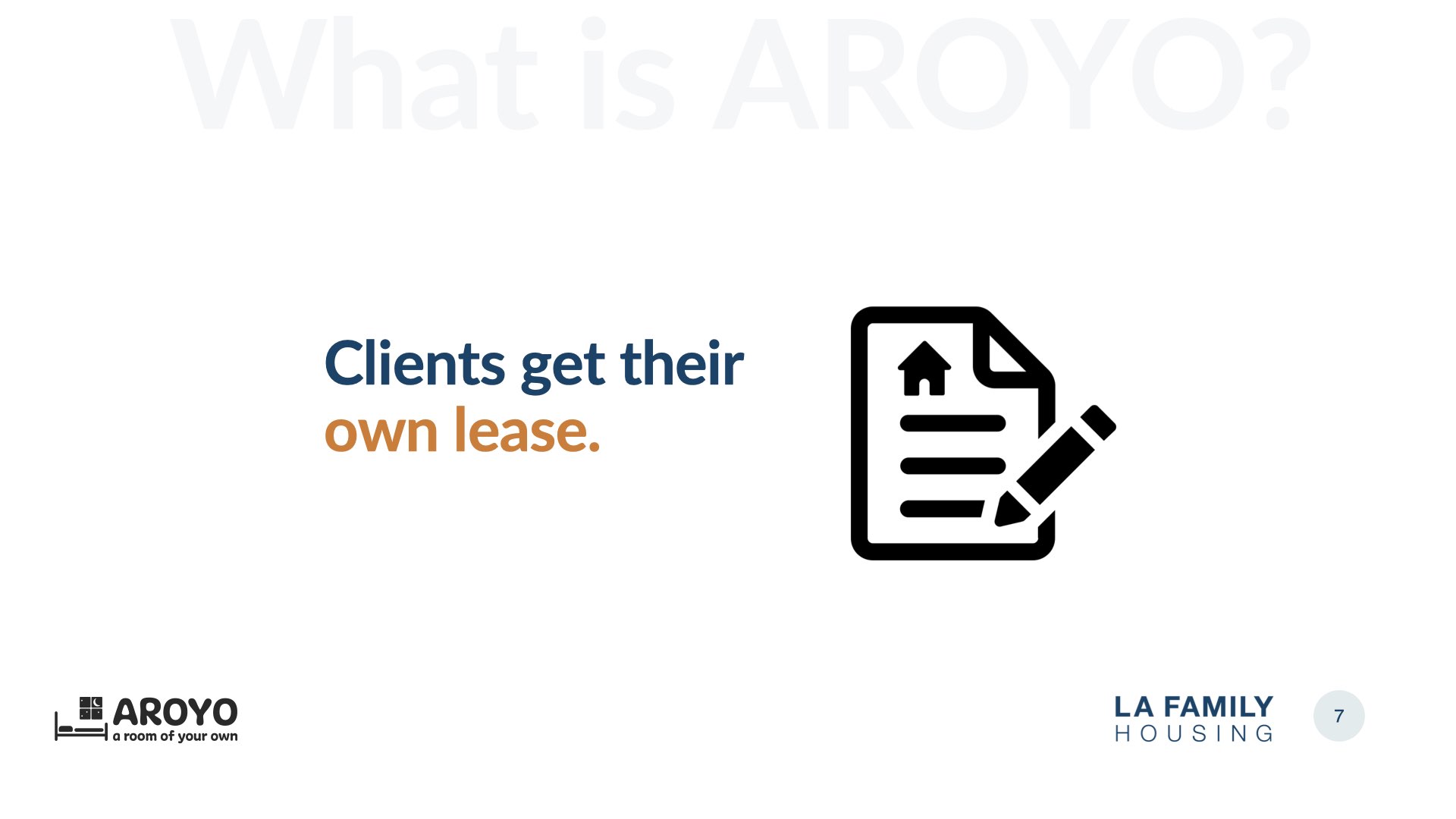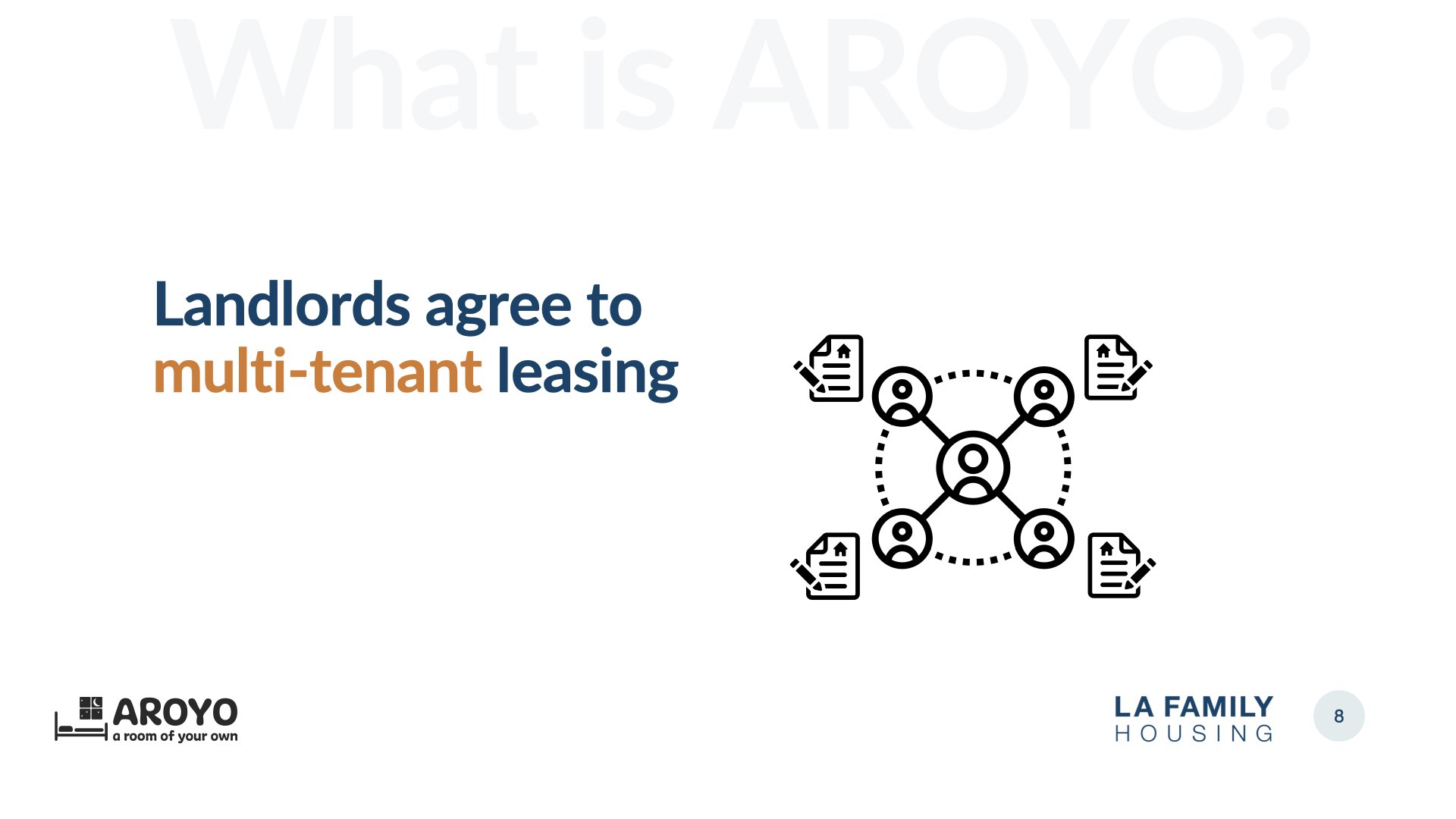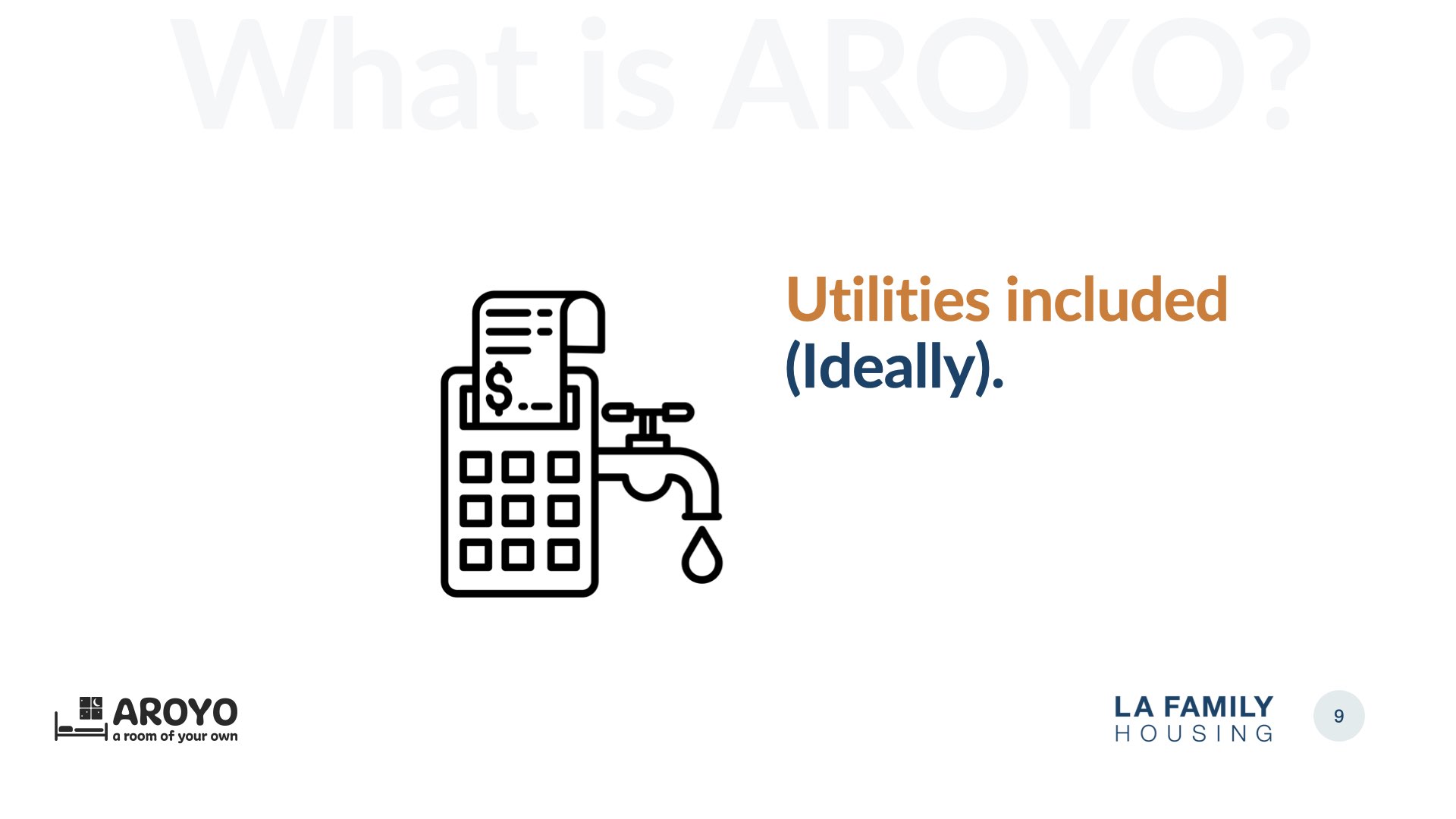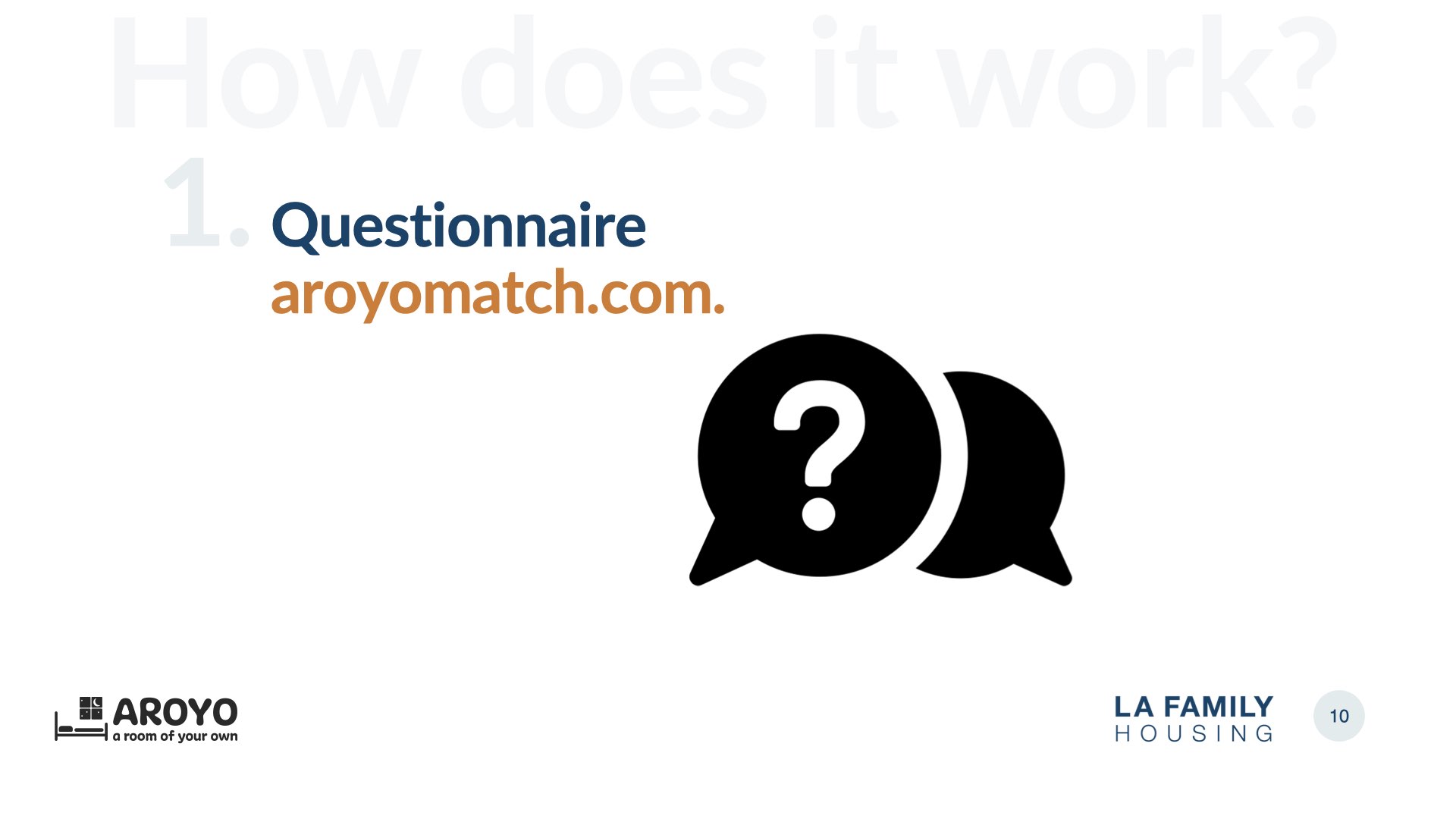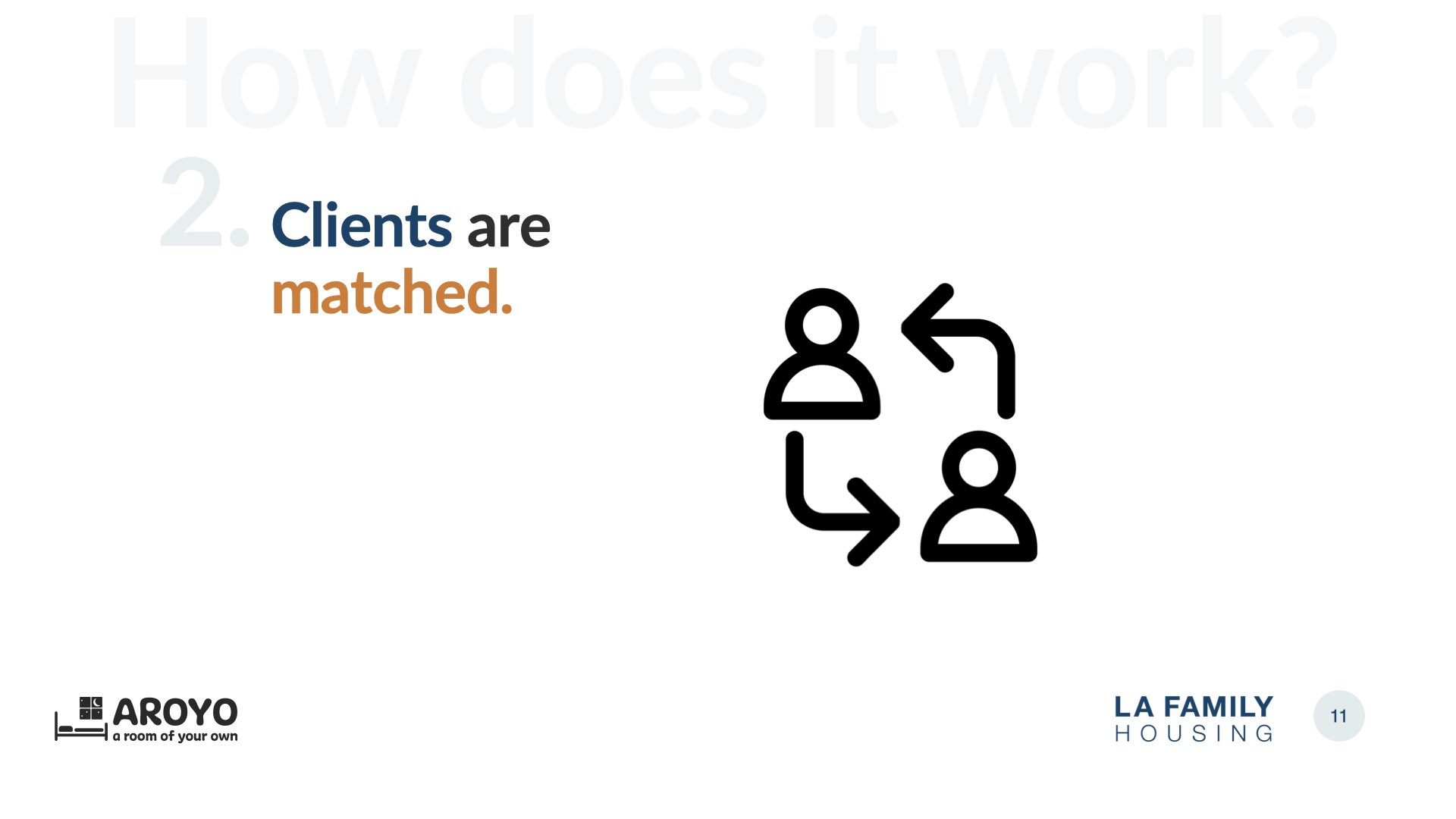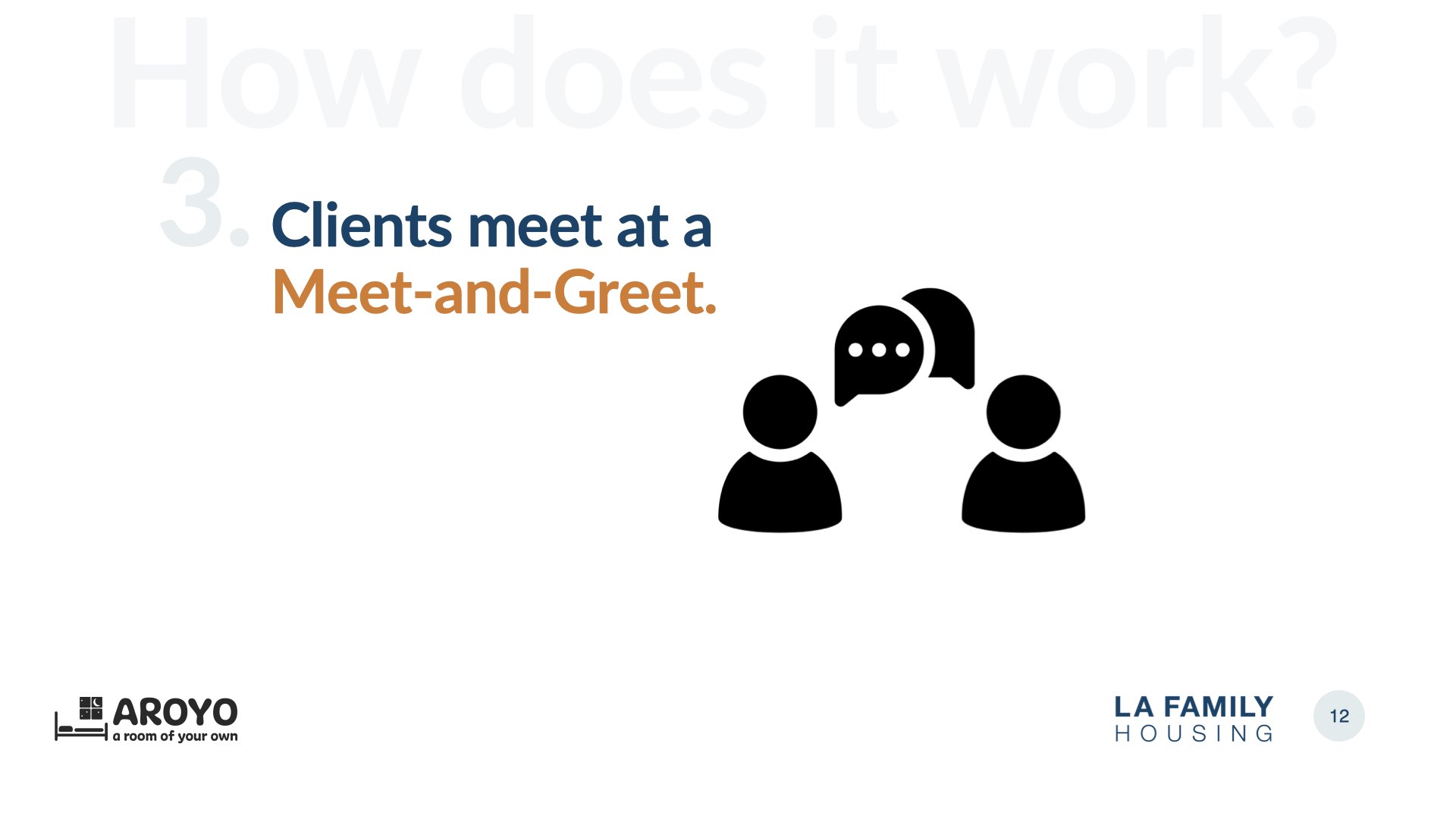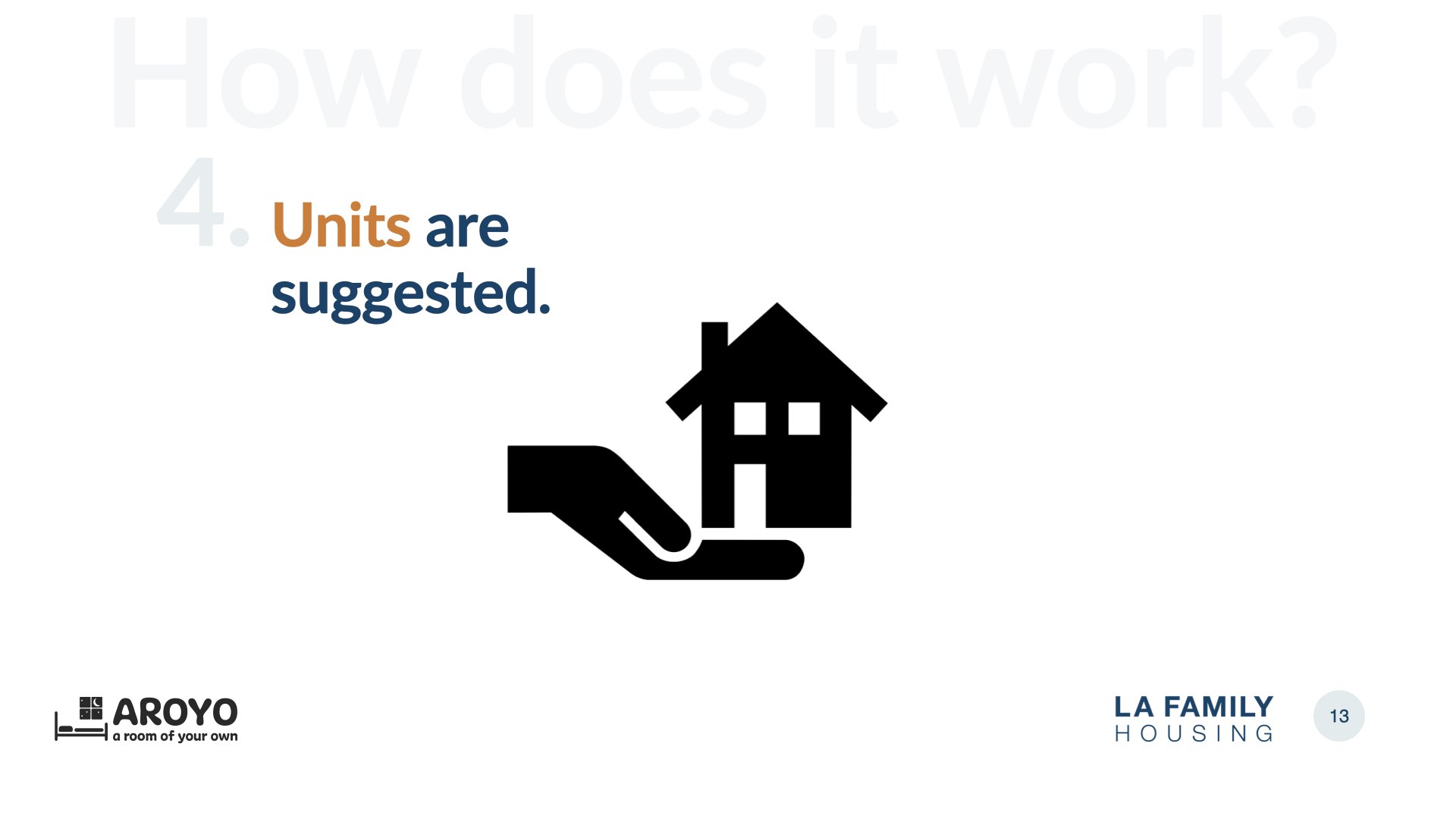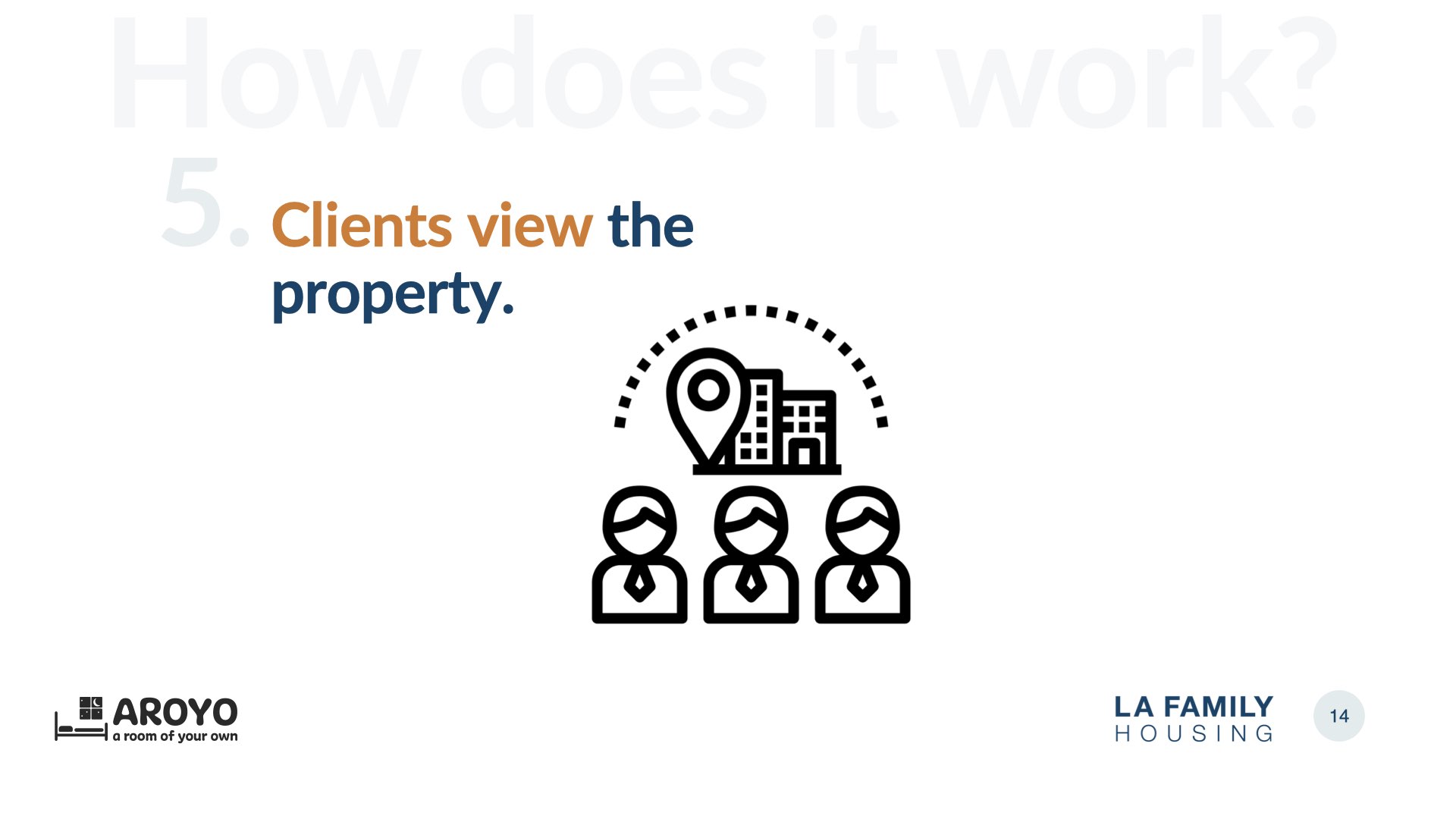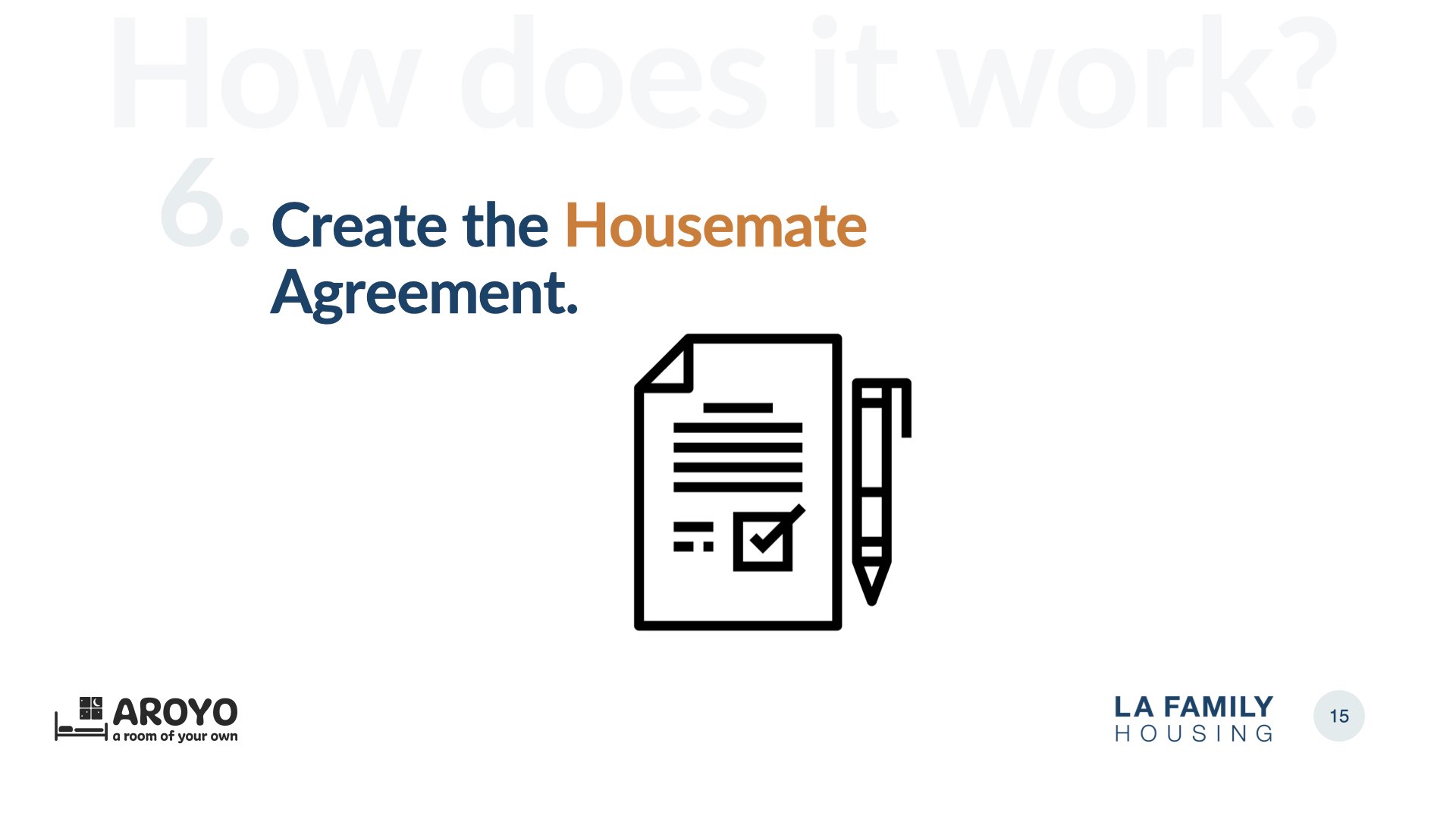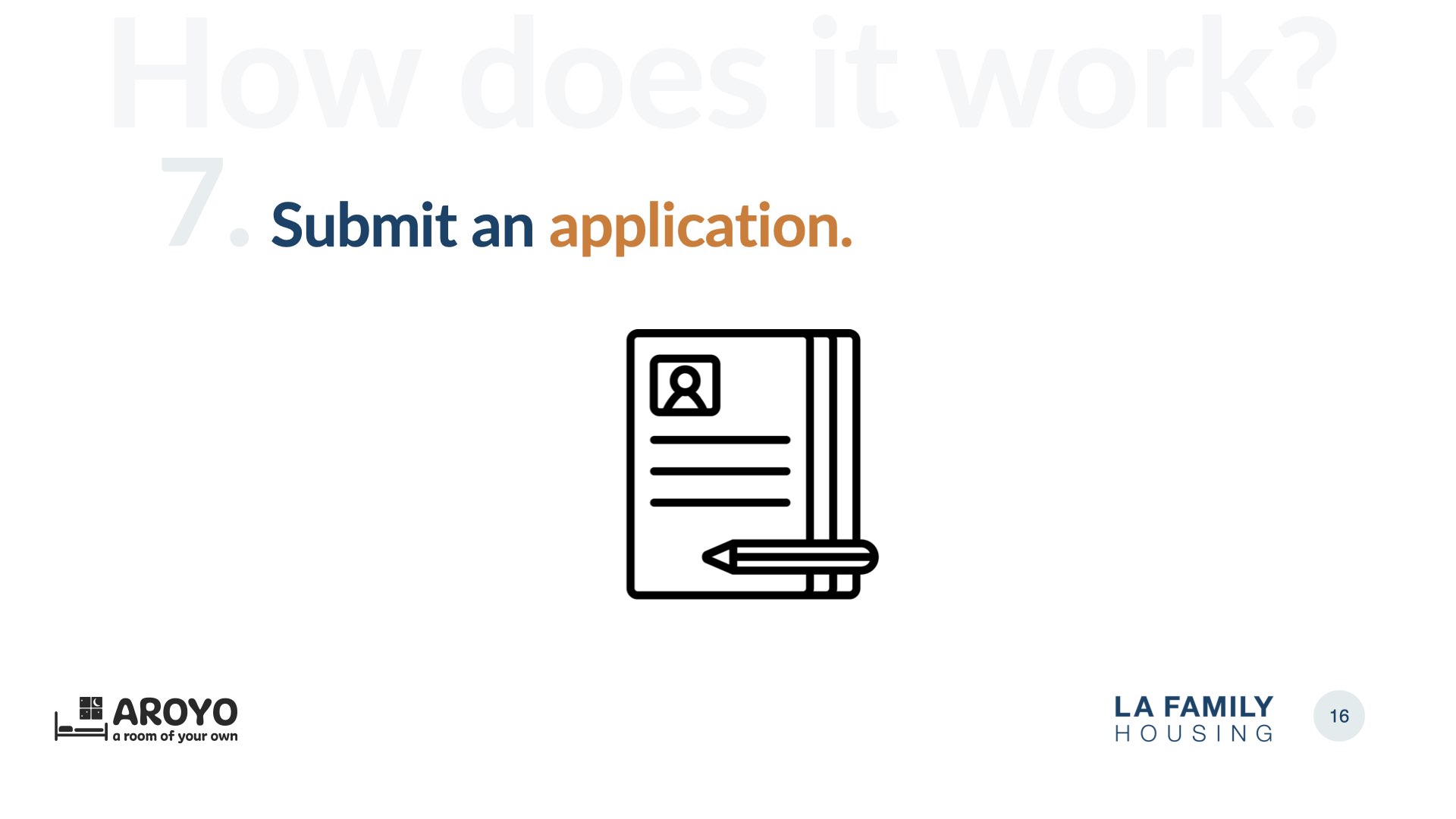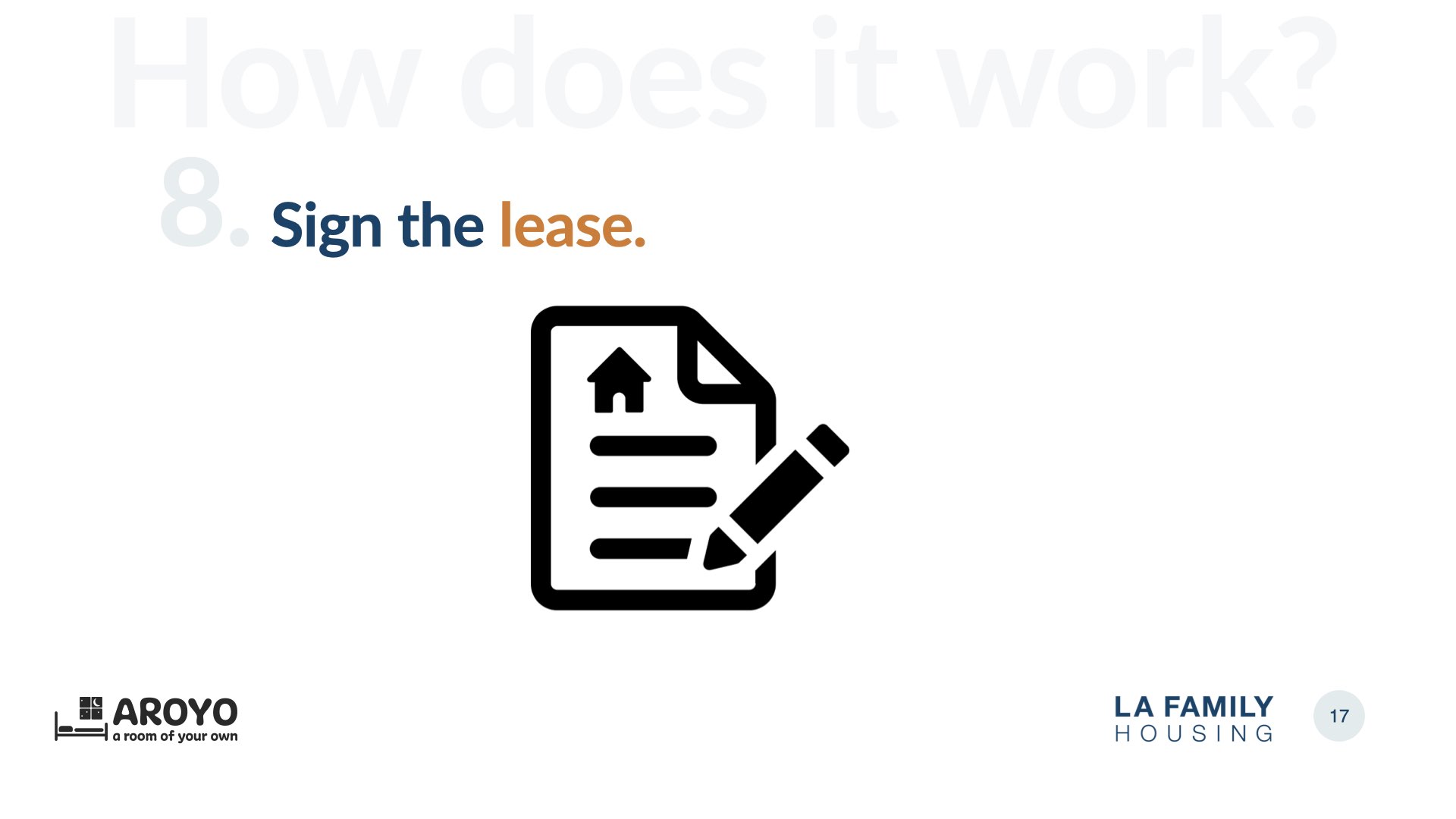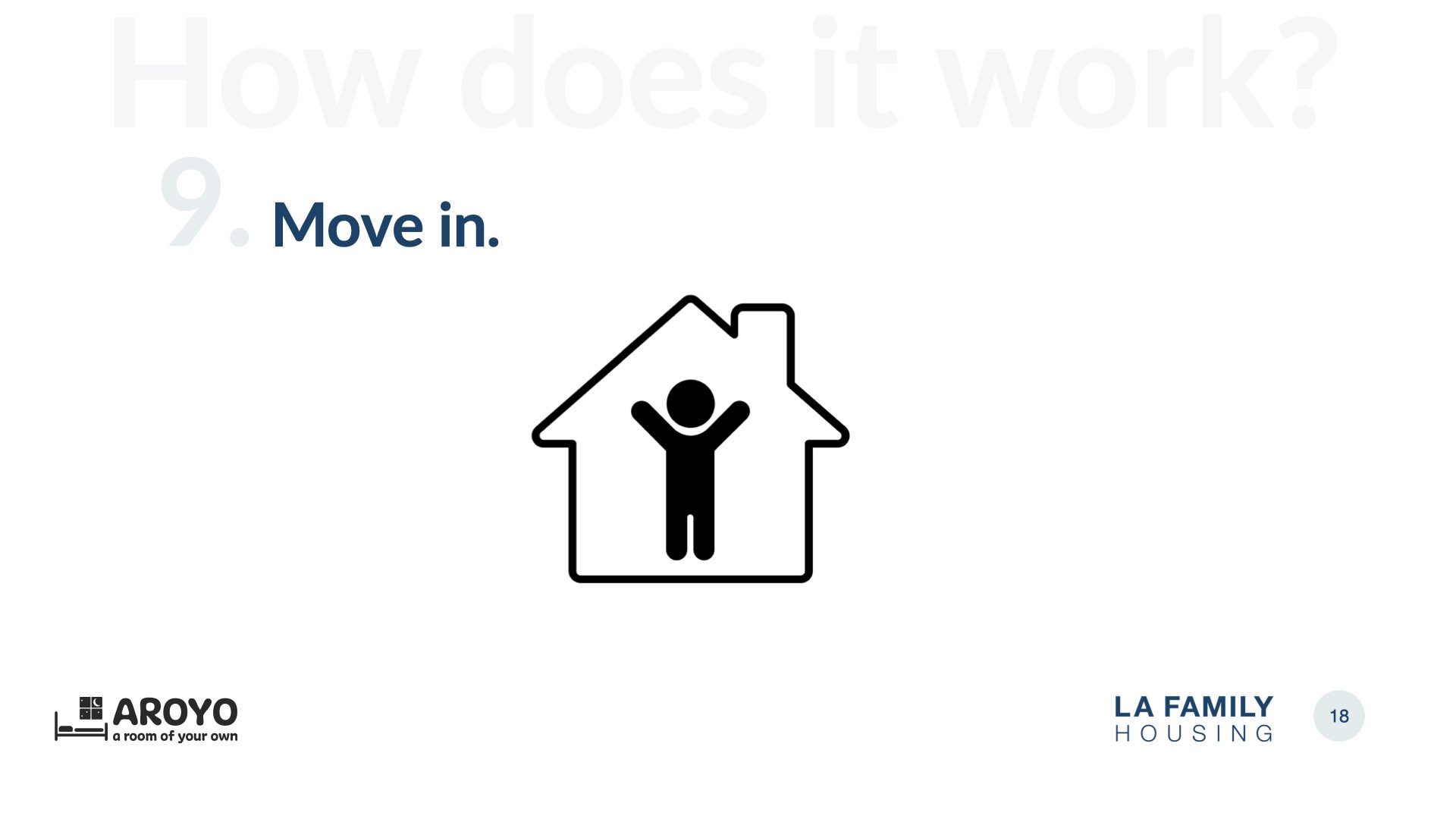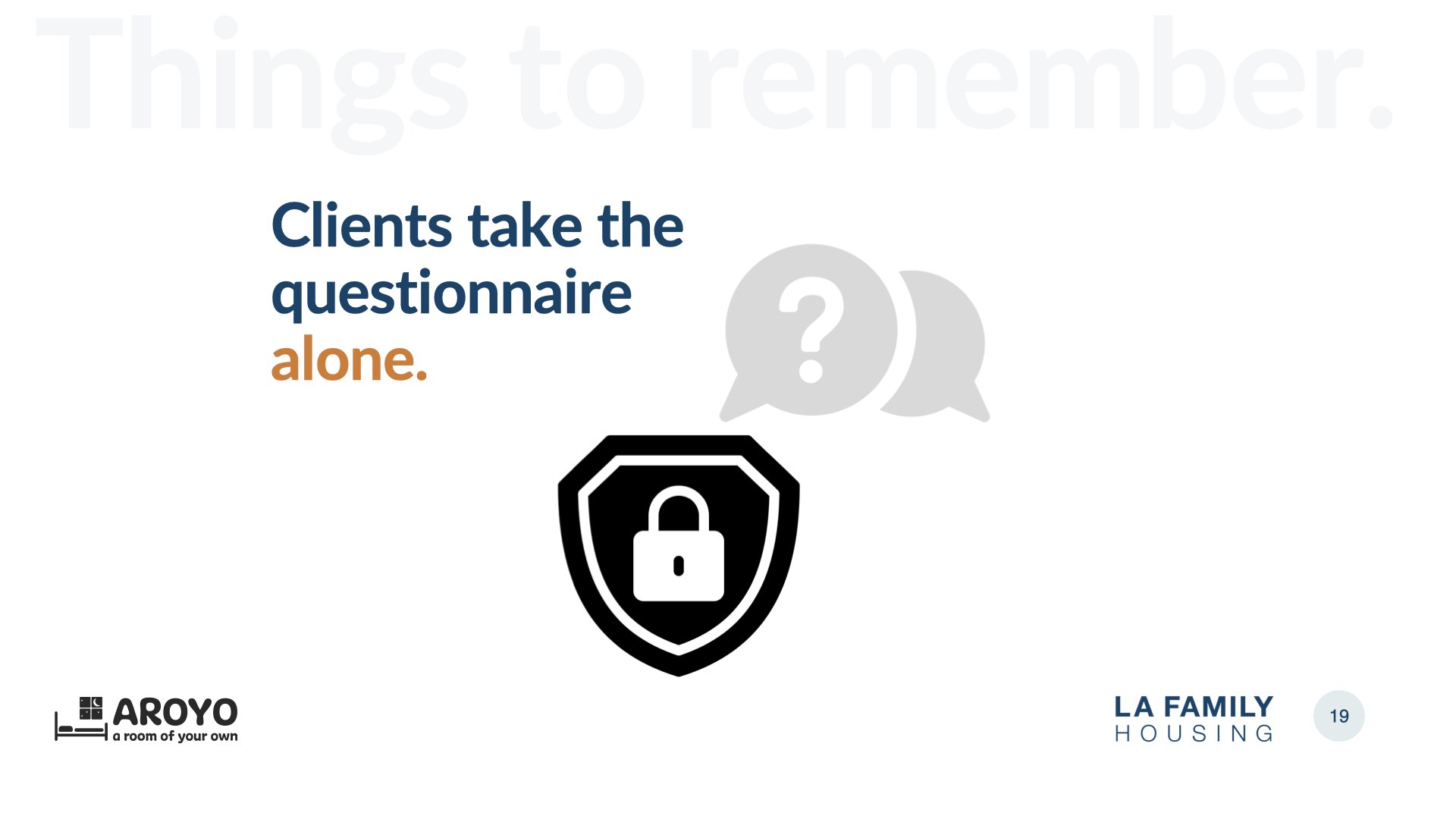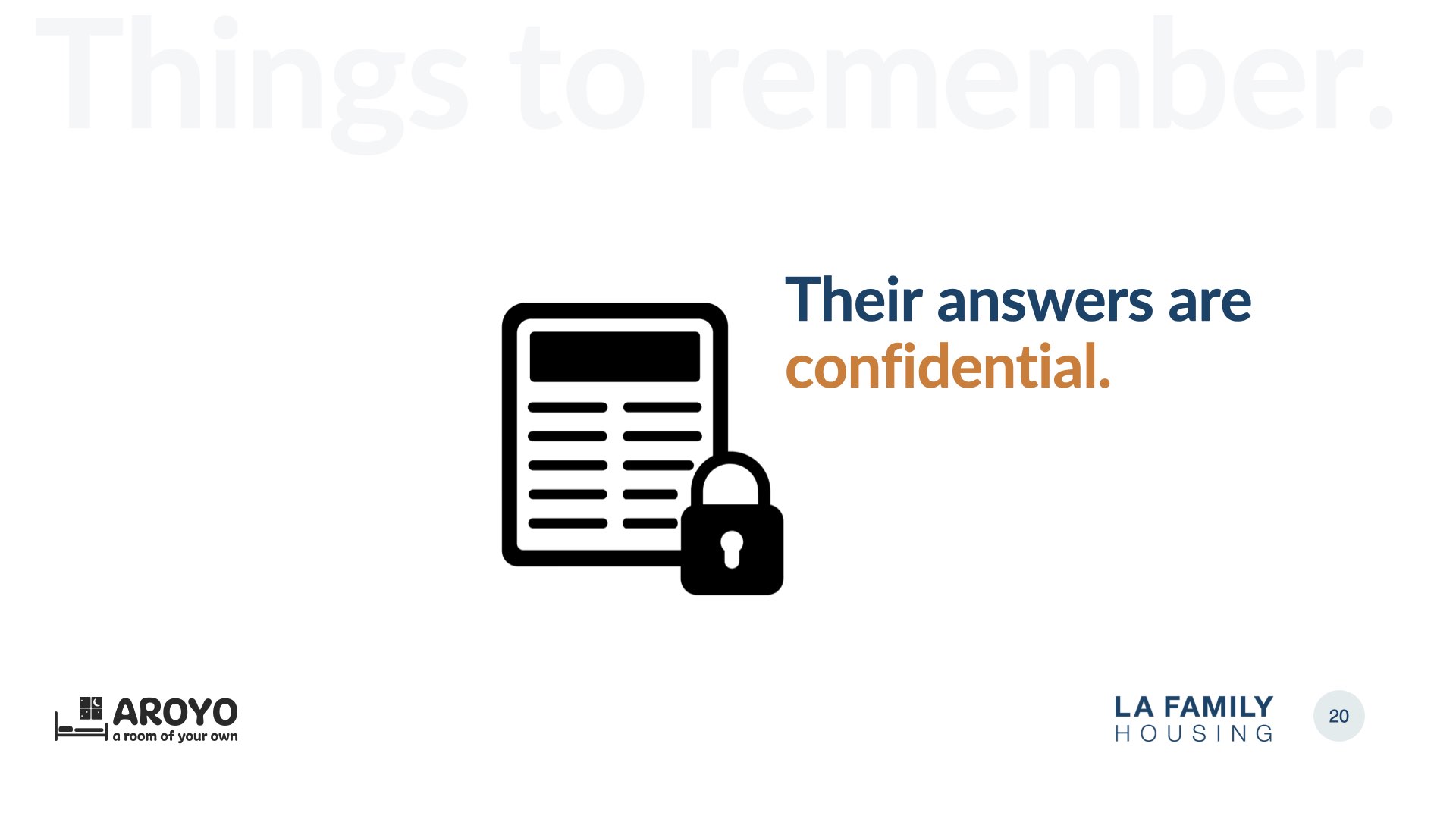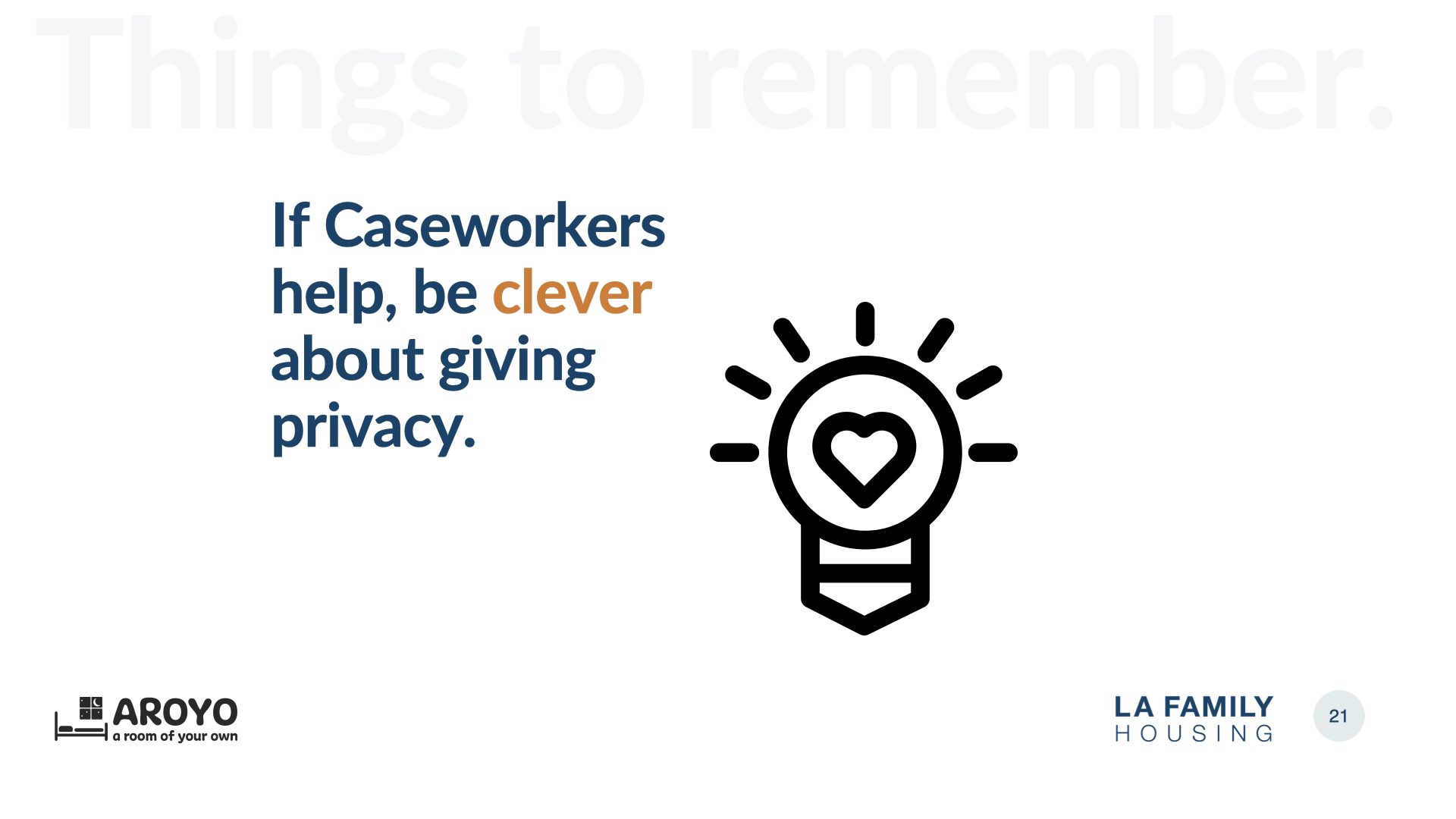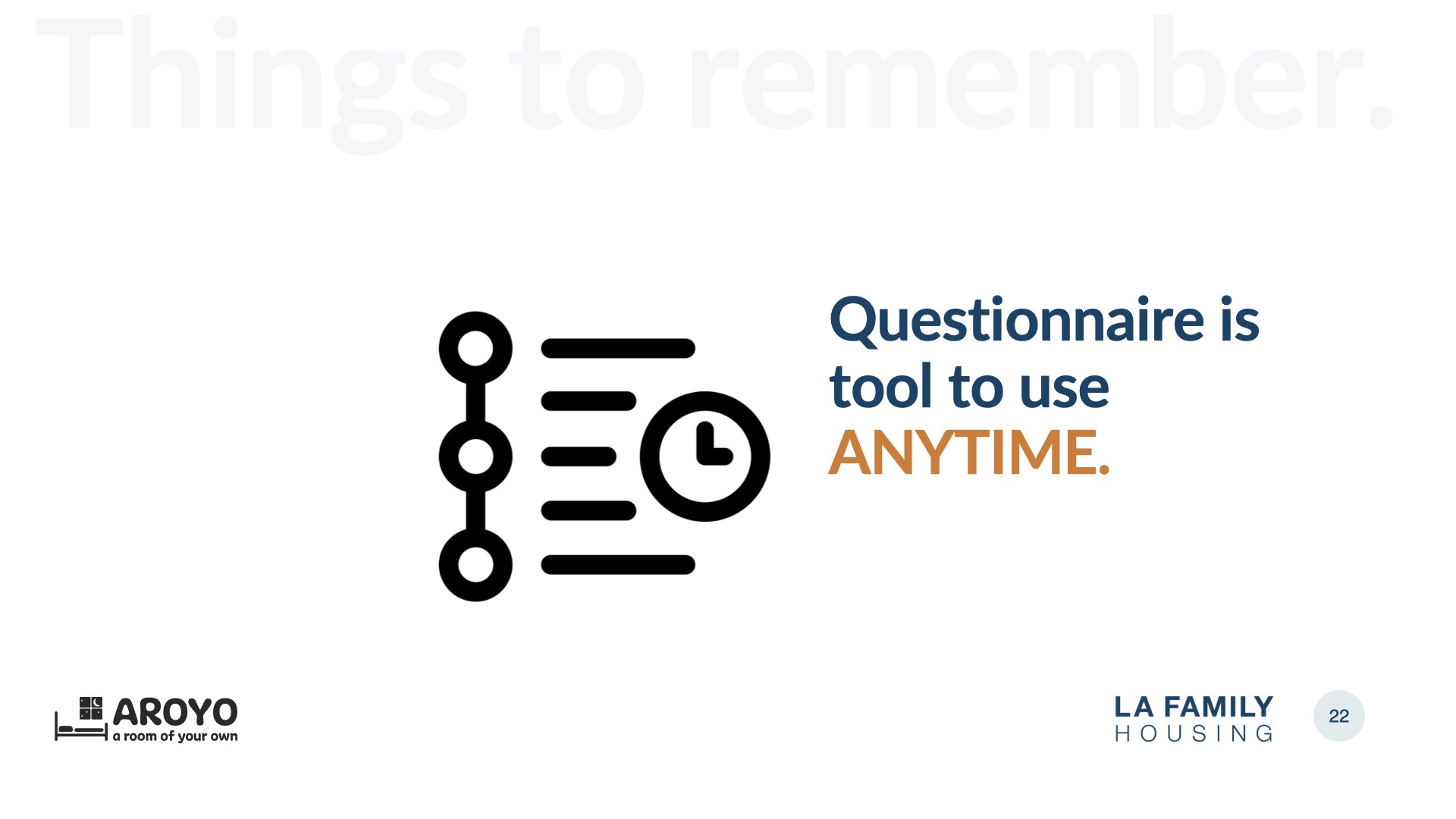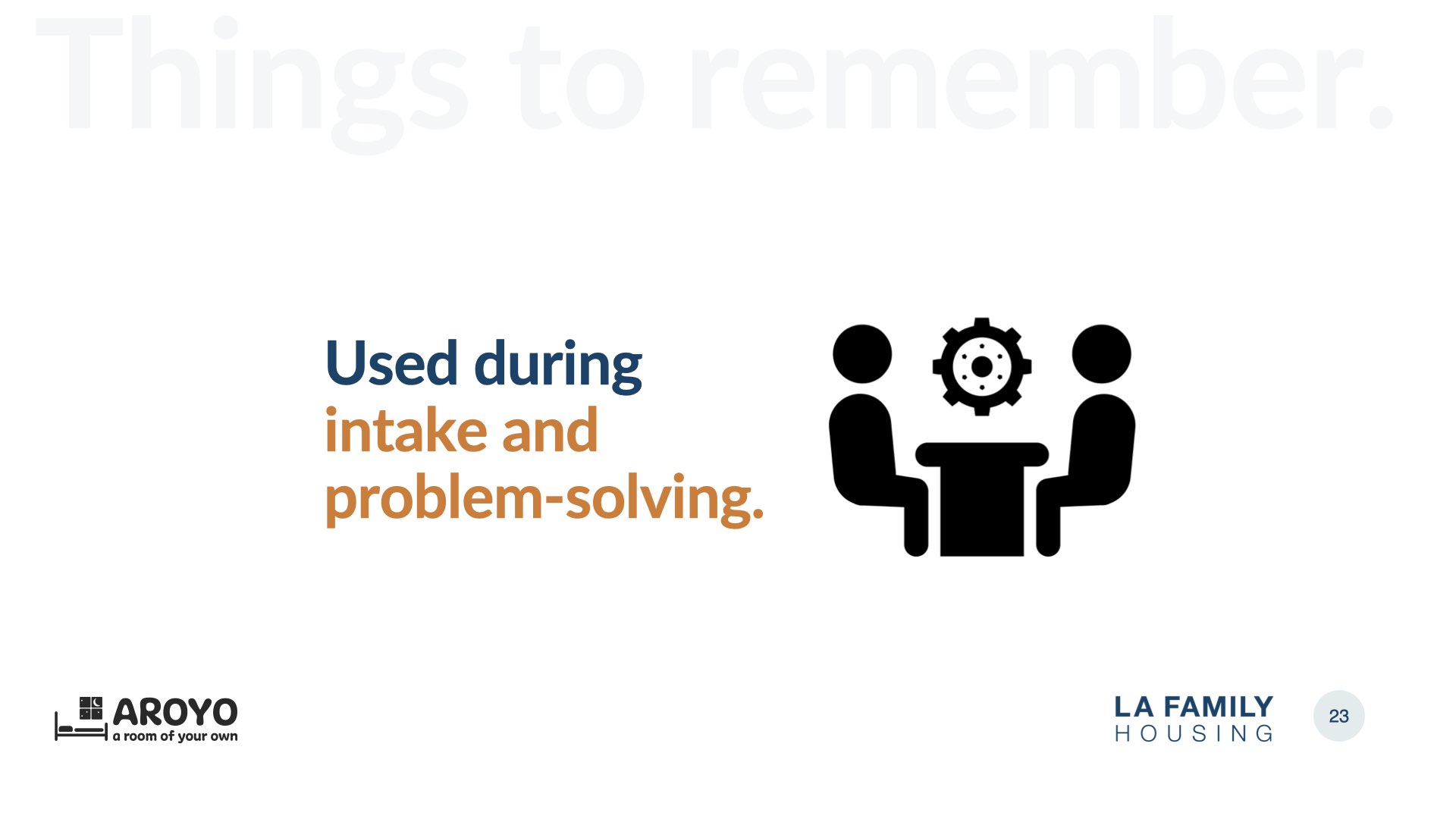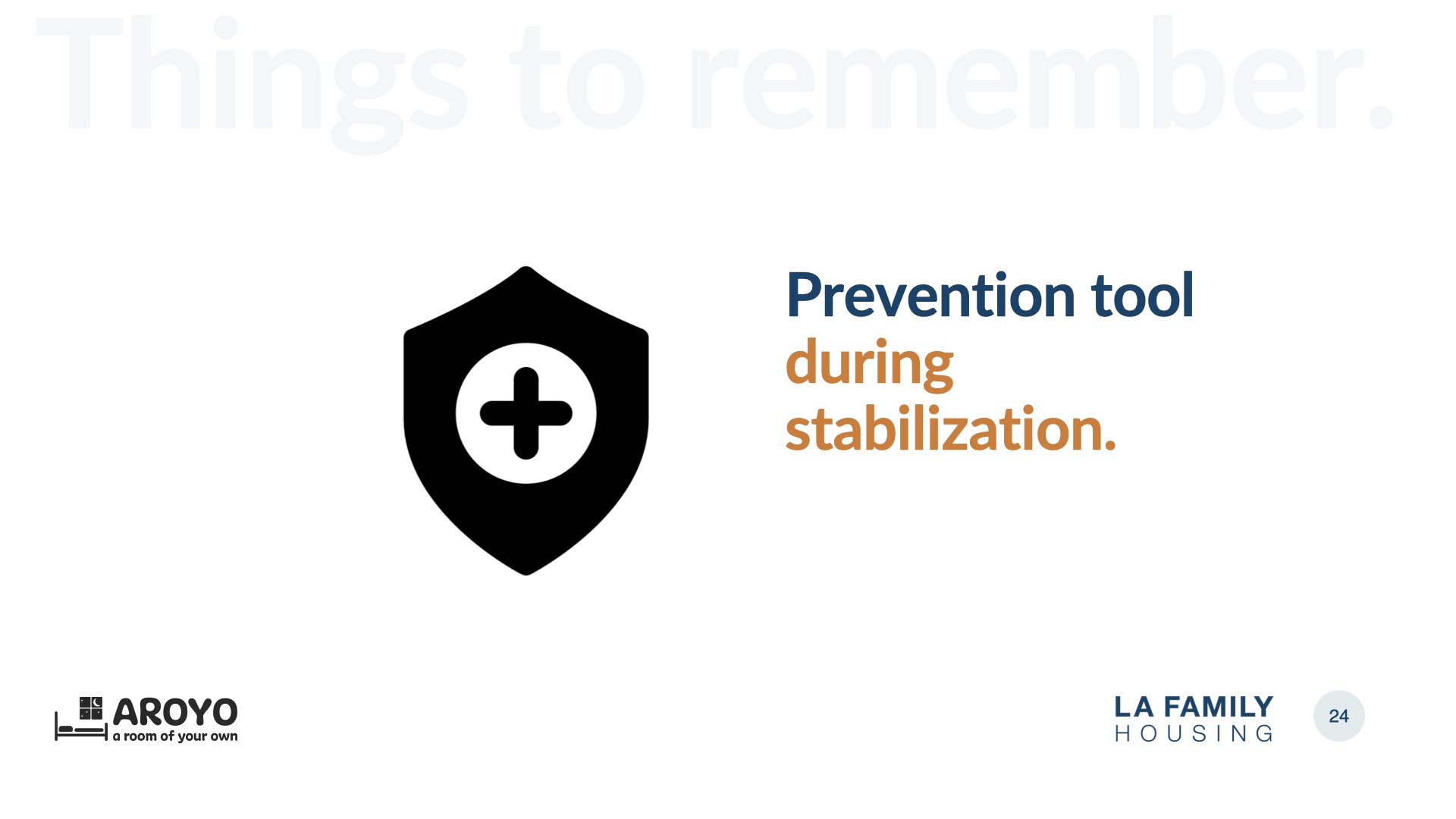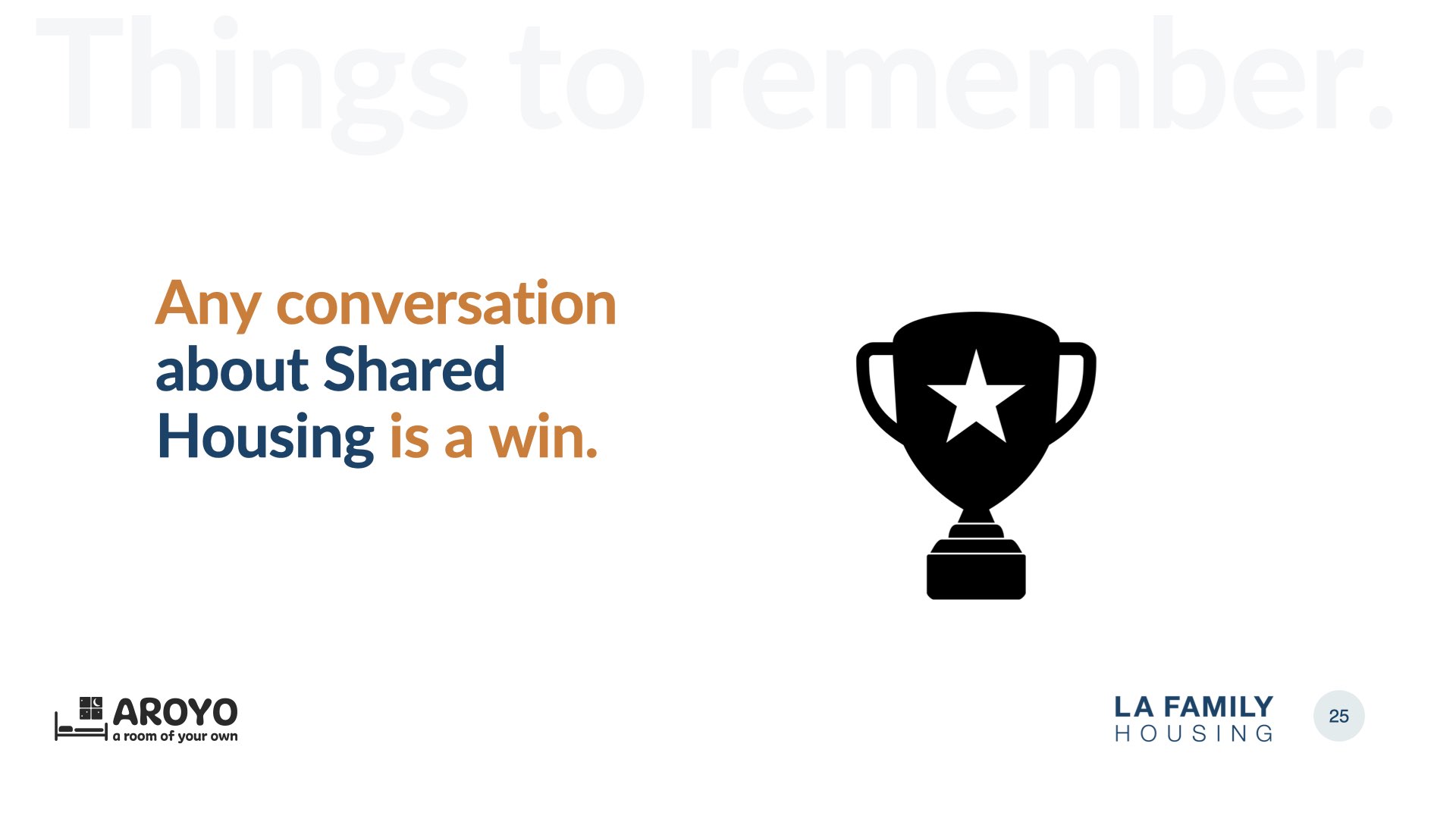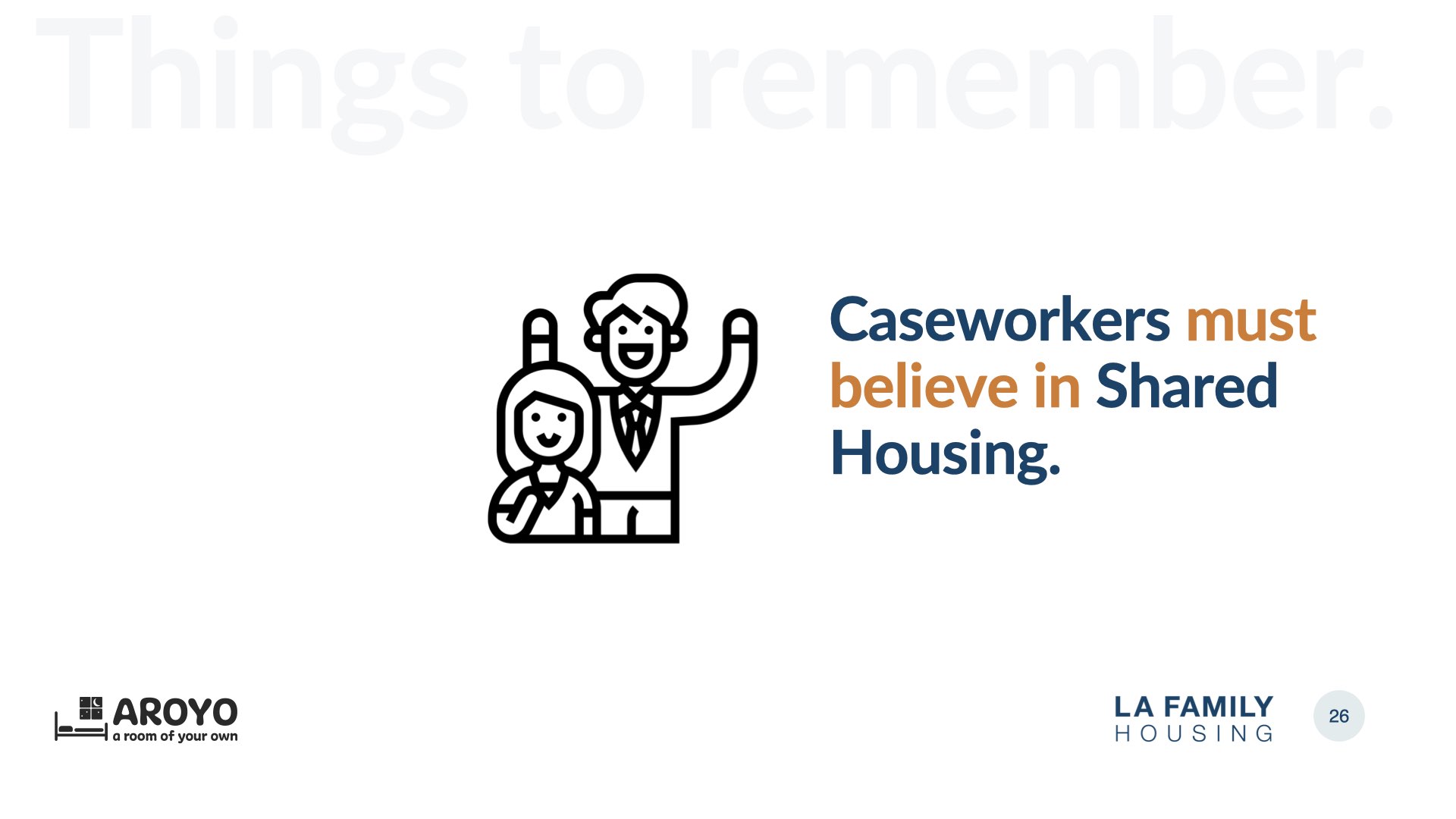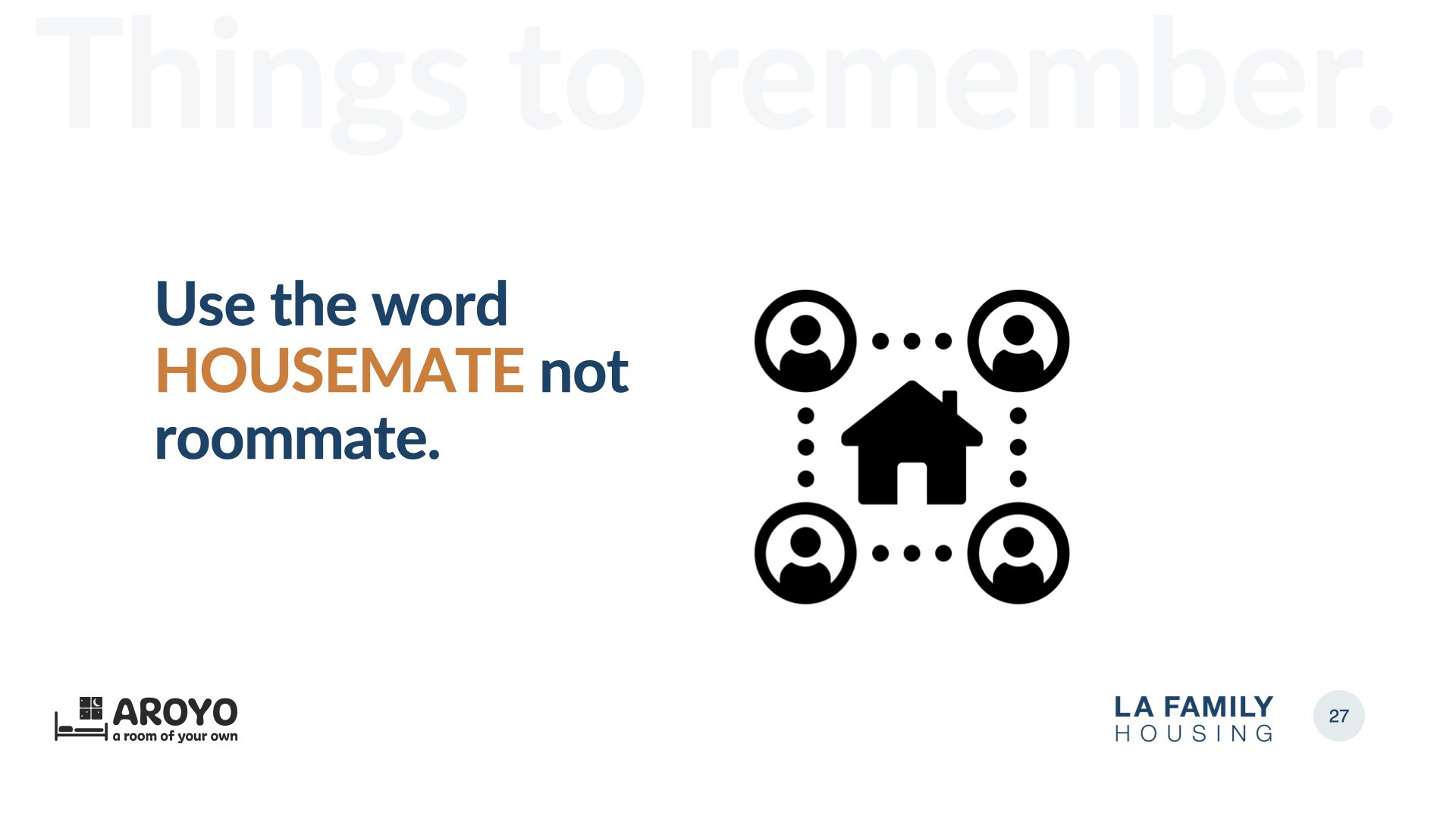 Writing and designing the questionnaire
The Chief Program Officer and I wrote the questionnaire with the guidance of our clients. We added humor to lighten up the mood and help gain the trust of the participants. I tested the questions with six (6) of our clients and caseworkers. I received invaluable insights and input. The result is a questionnaire that is tailored for our clients.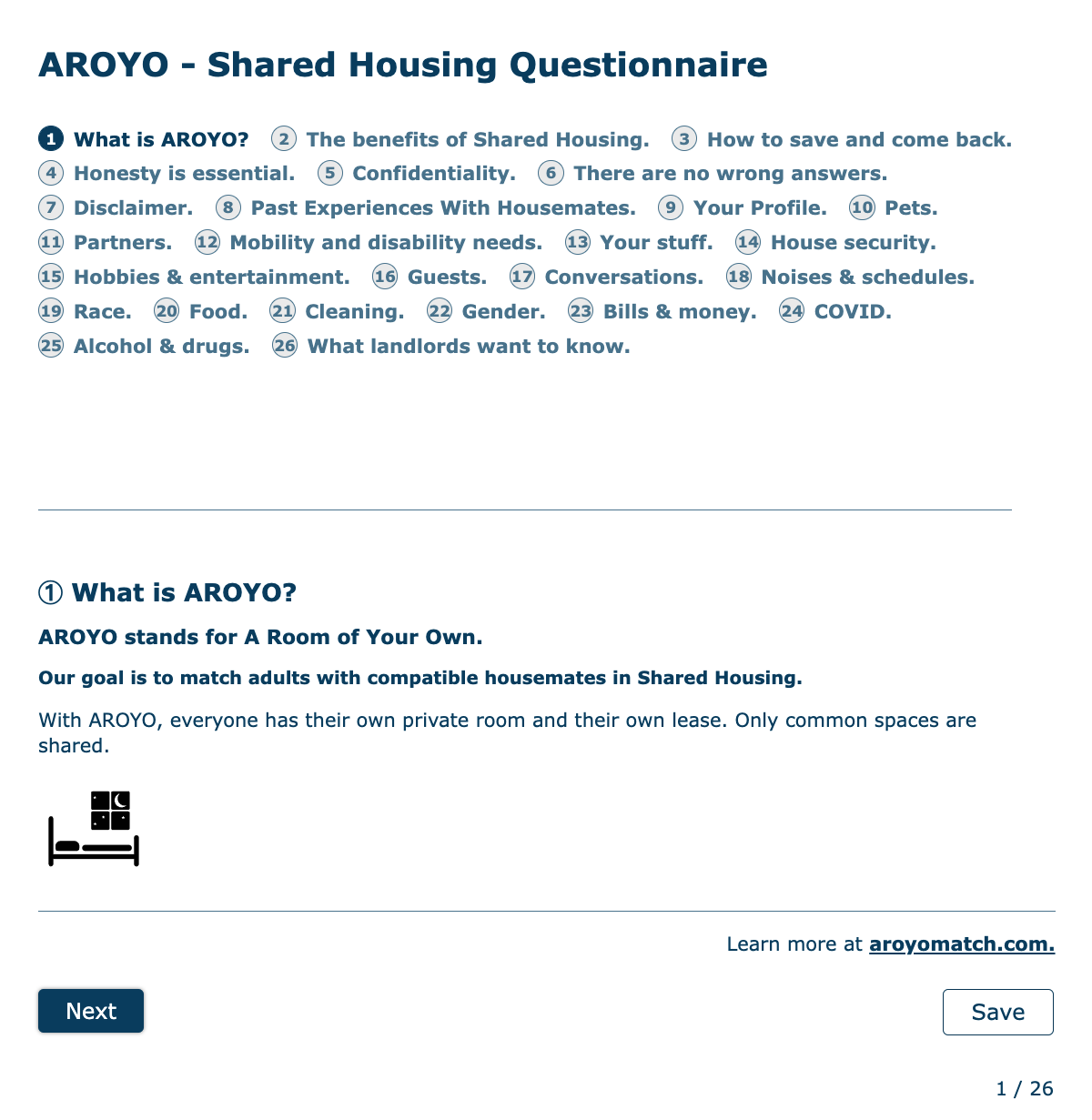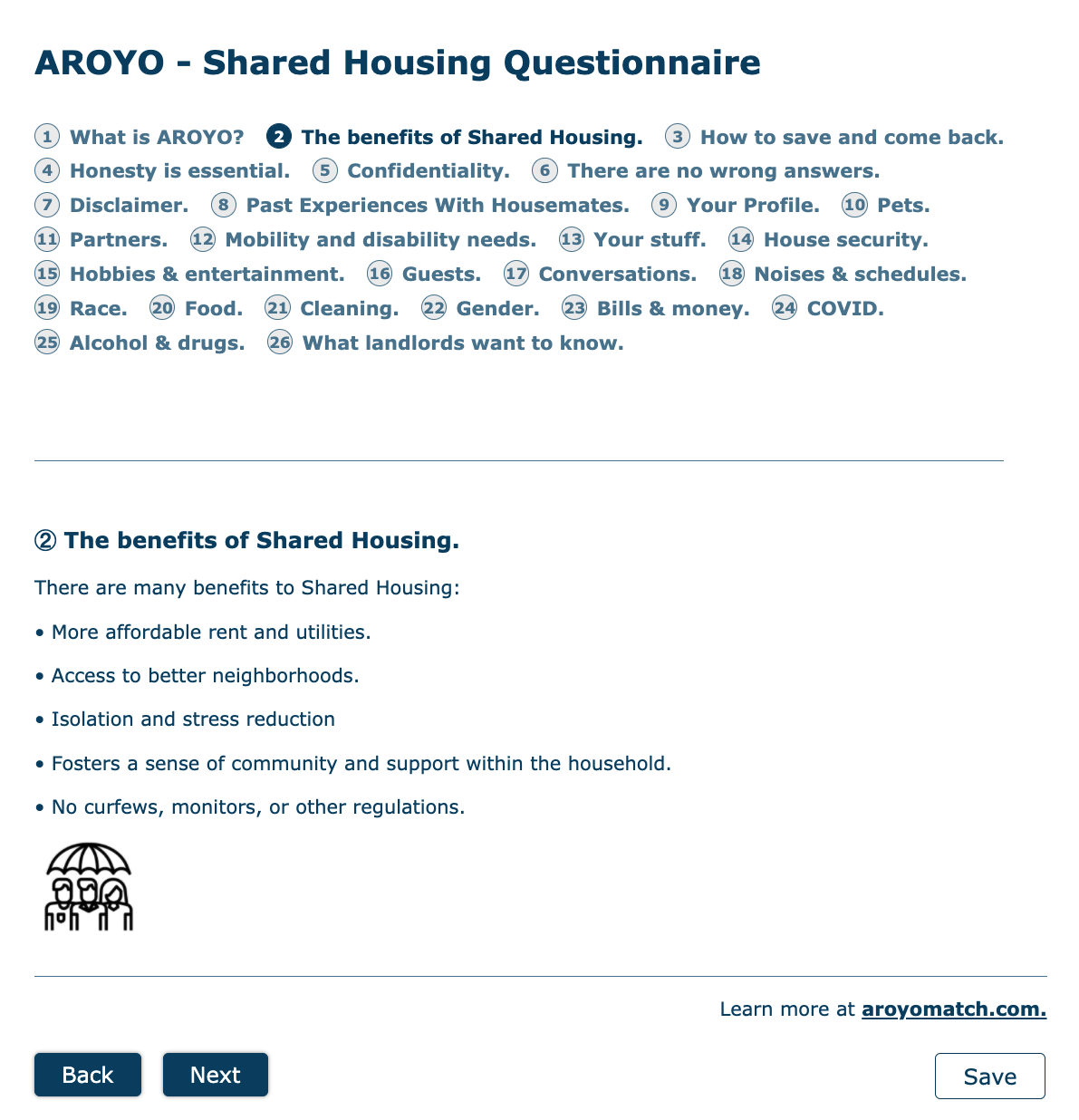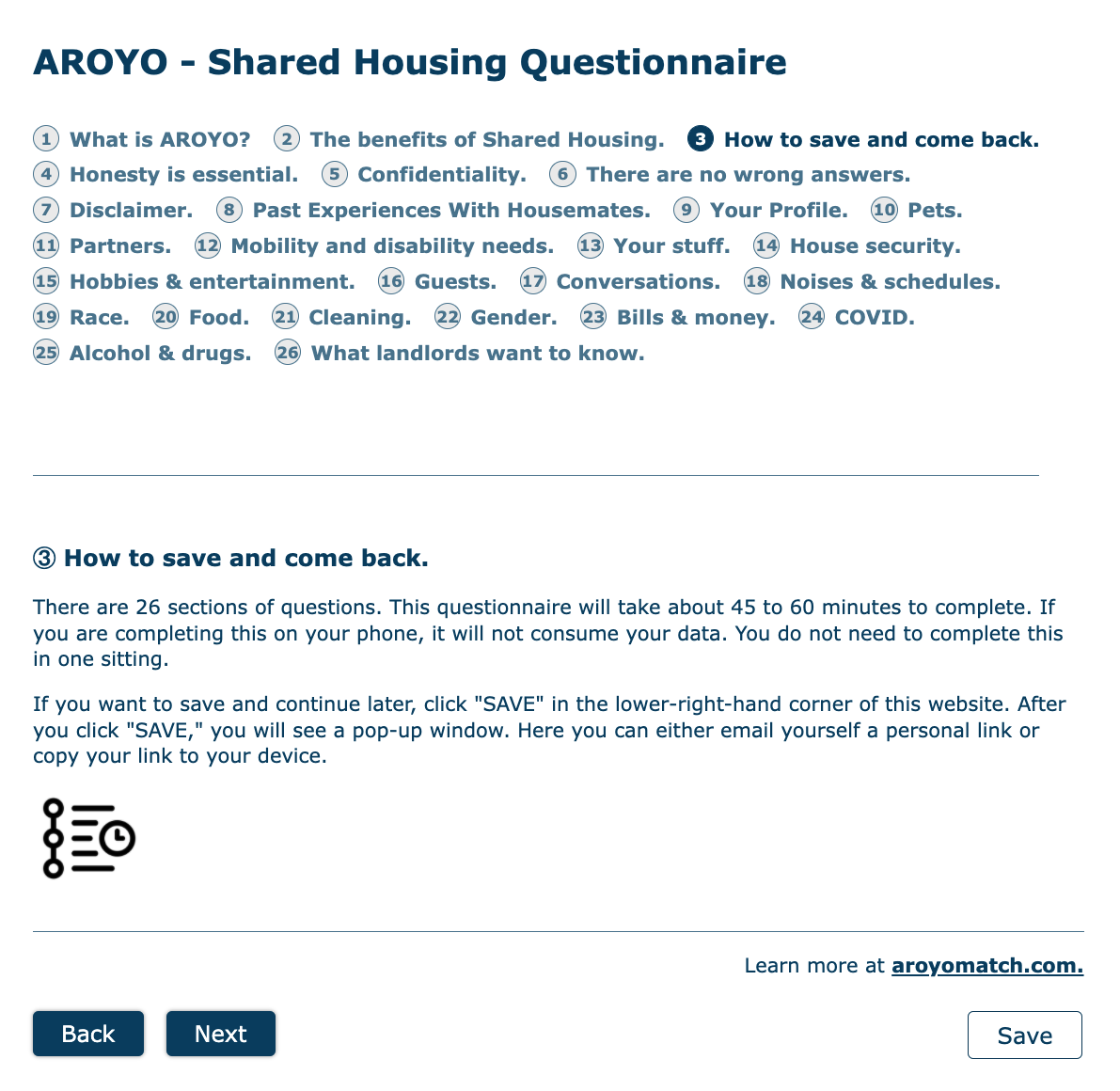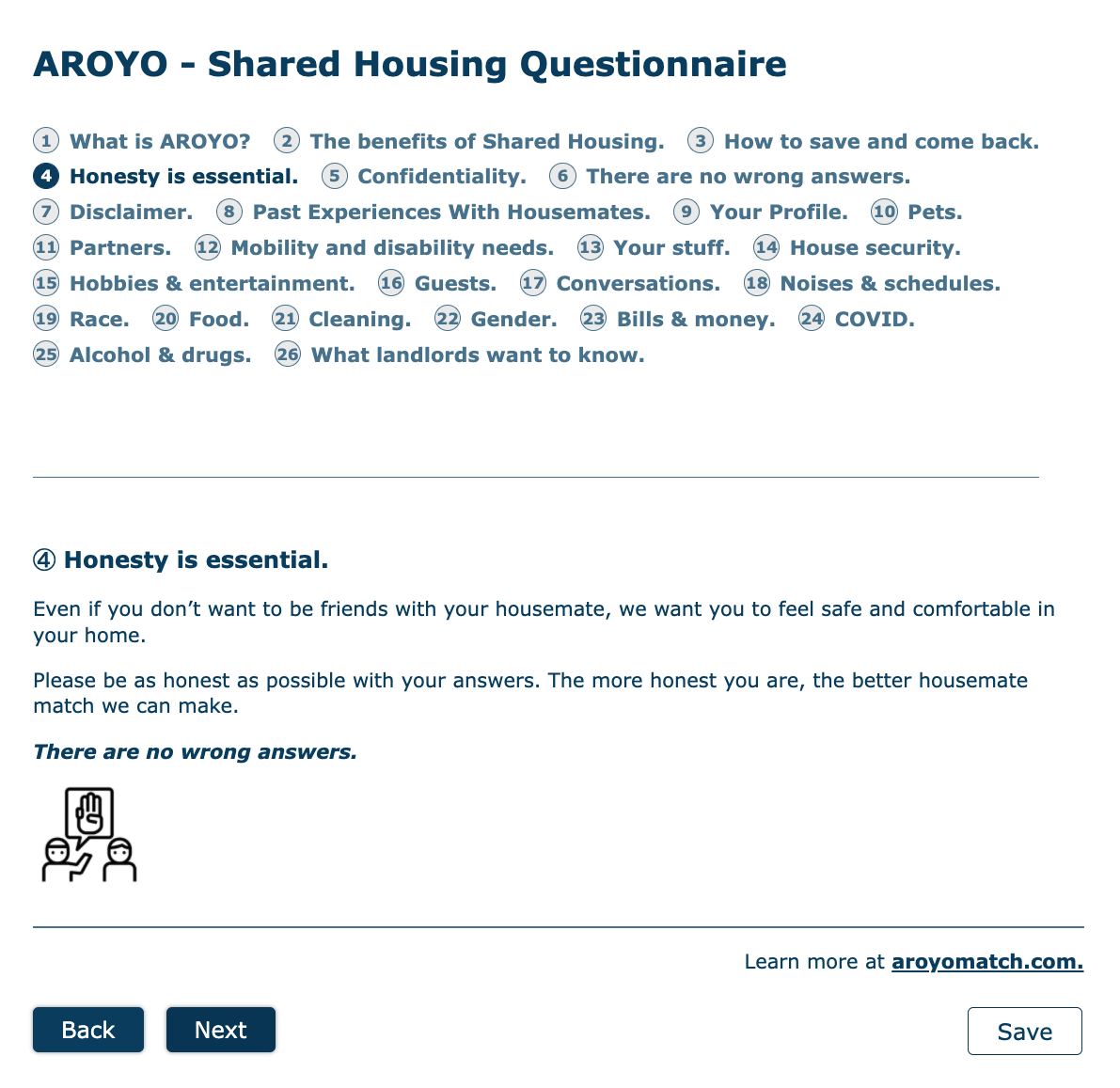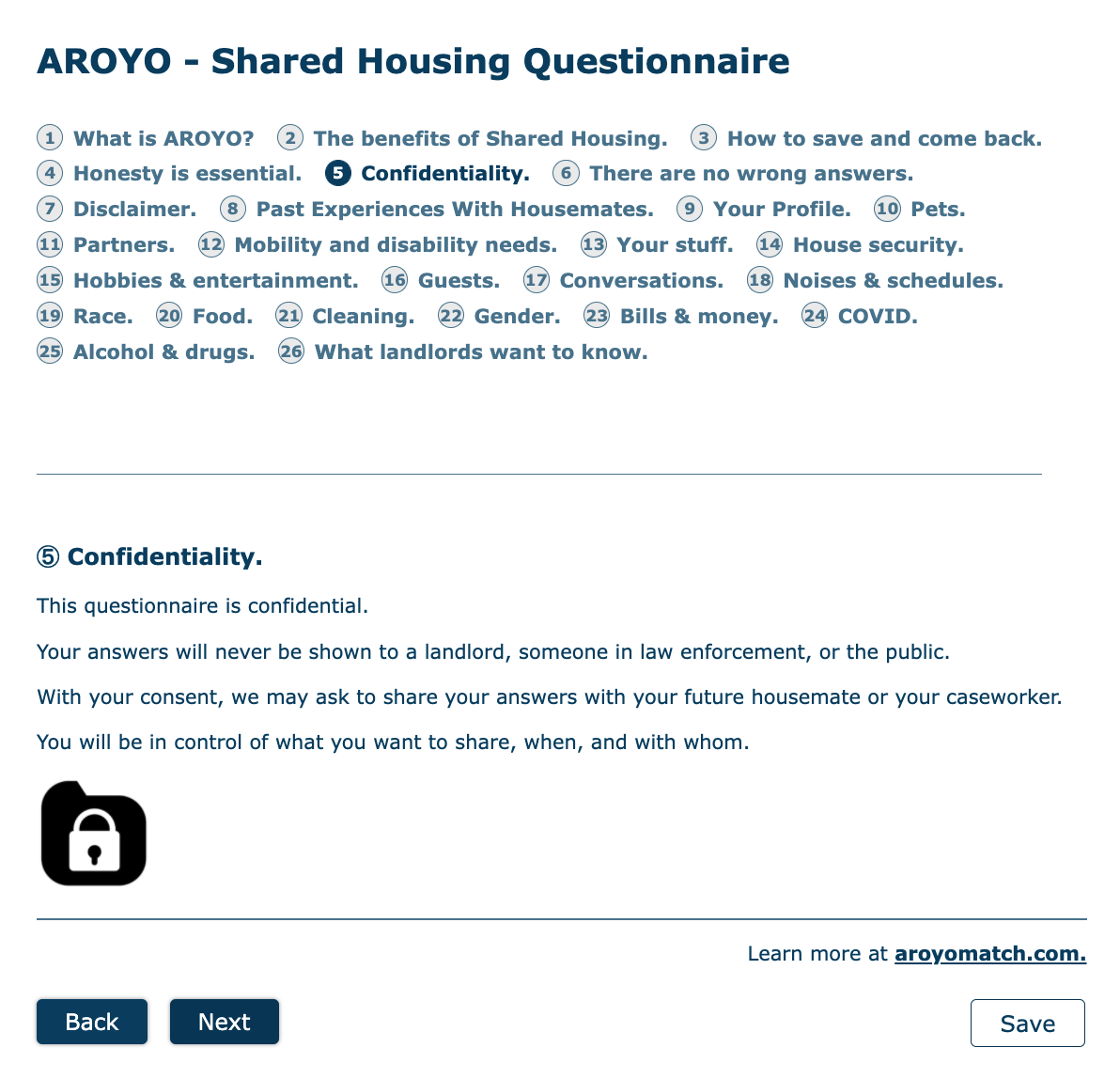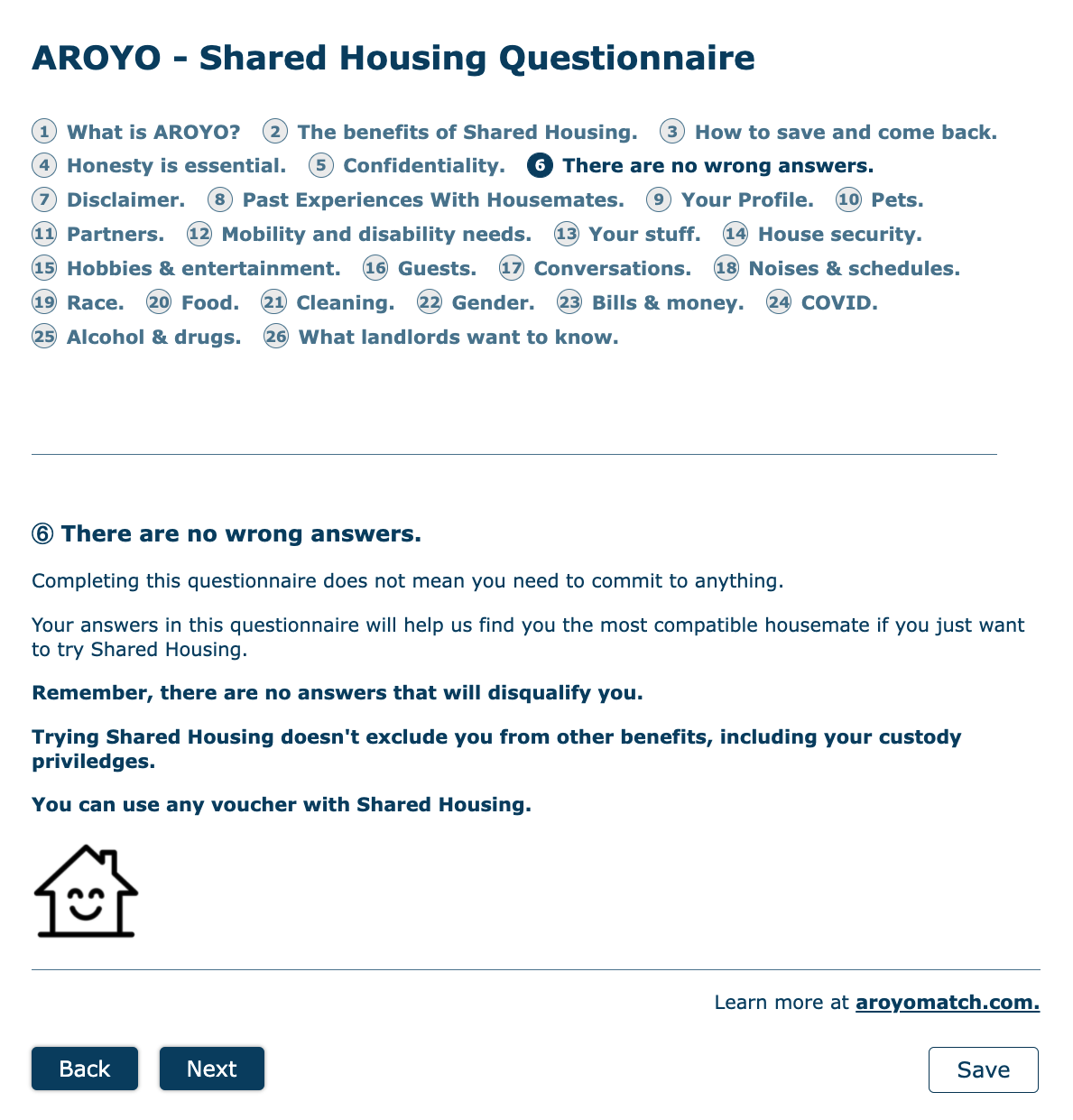 June 2023
I continued the work on Shared Housing with a consulting group. I designed an extensive 2-day Caseworker Training Slide Deck. Selected images below. I also wrote, illustrate, and edited a 180-page Shared Housing Workbook.
Your Own Room Your Own Lease 2-day Training Program